Last week we introduced Scout, a tool for hiring managers. Our goal with Scout is to connect designers with world-class companies and amazing job opportunities. With a Scout subscription, hiring managers can find designers with advanced search and filtering, group and organize designers into lists, and message them about job opportunities.
It's common startup advice to get an MVP (minimum viable product) out the door and iterate quickly over time. When we launched Scout last Thursday, we thought we had an MVP, but we quickly heard from some of our top designers in the community that we had not met the viable bar. Scout wasn't quite the slam dunk that we expected.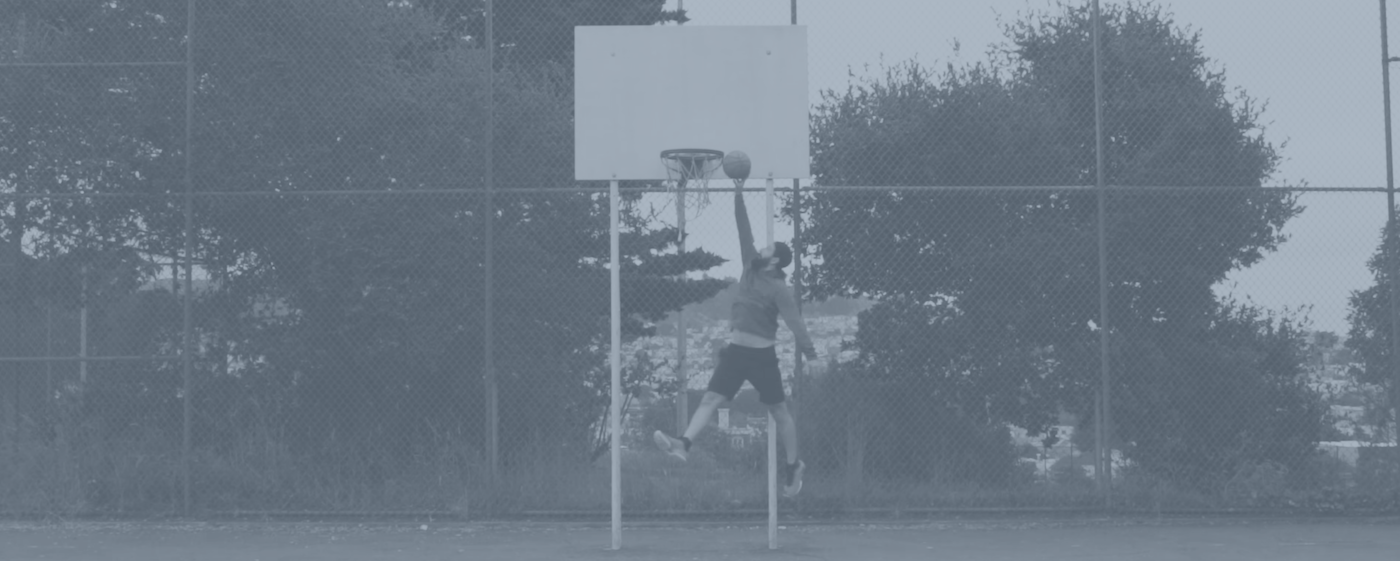 We immediately took note to this feedback, passed the ball to the product team and began traveling back up the court. Within 24 hours of launching Scout, we made product updates to location searching and sorting by follower count which helps address some of the biggest issues.
That said, the first quarter of the Scout game has just started. We still have a lot of work to do and feedback to address. The cool thing about building products for the web is that our work is never done. It's a constant iteration of listening to our users and making improvements to meet their needs. We have a long game ahead of us, but we're listening to your feedback and here's how we're planning on moving forward starting next week:
Location Search
With Scout, we had changed the way that location search worked. We assumed that if hiring managers searched for designers in London that they'd want to see both designers who currently lived there as well as folks willing to move there for the right job. This was very confusing to people so we've moved to only showing people who are currently based in that location and added additional checkboxes to include remote designers and designers willing to relocate to that location if you choose to expand your search.
We have some continued work to do to address designers who have said that they live in London, but actually work elsewhere. Obviously, this is not a great experience for hiring managers looking for local designers, so we will be making improvements here over the coming weeks.
The Designers List Page
With the introduction of Scout, we made a misstep by removing the lists of designers and teams from public view, moving them into Scout. We didn't realize how important these pages are to Dribbble members for discovering new designers and teams.
Next week we'll be bringing back the public designers and teams pages for everyone with an updated look and feel. The page will be accessible by anyone on Dribbble and Pros will be able to search for and message designers.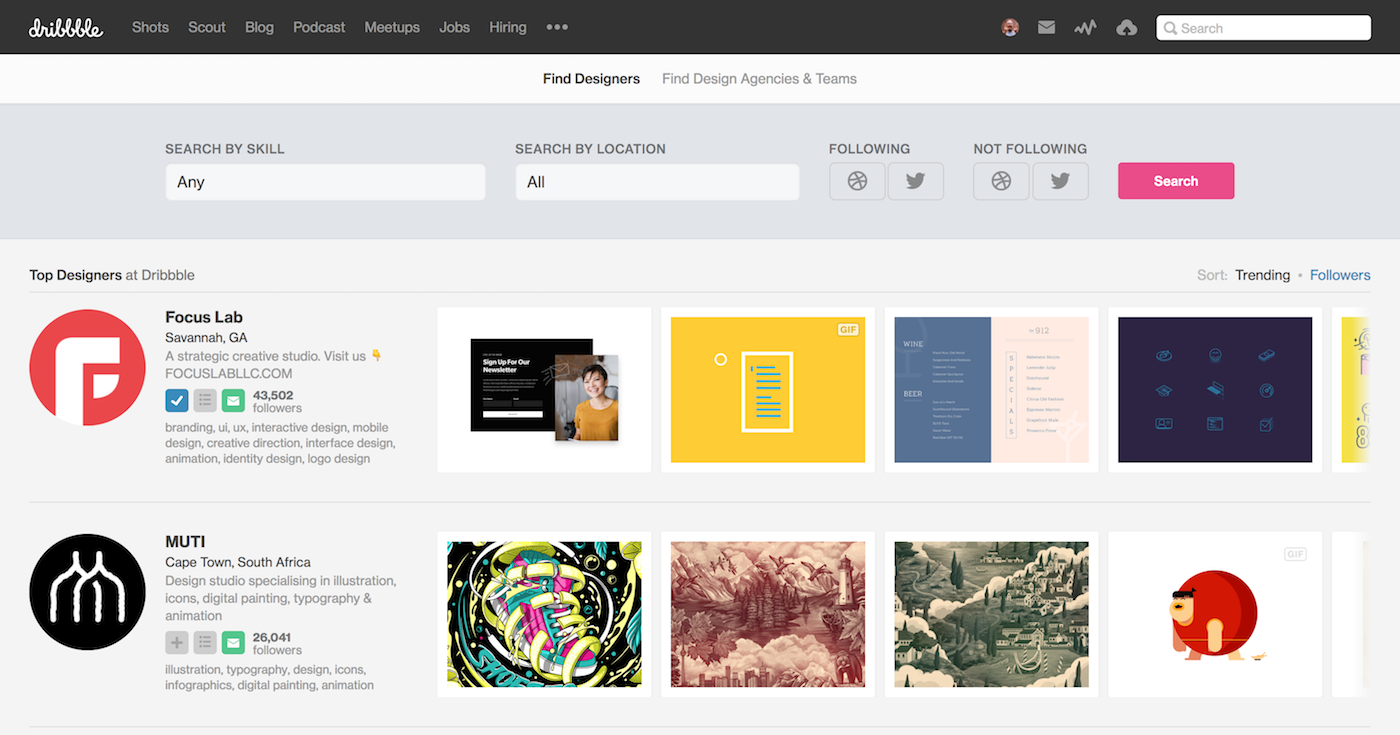 We've been talking to a lot of Dribbble members and visitors lately, in-person at Dribbble meetups, talking to folks online, conducting interviews and usability tests, and we got a ton of great feedback from a global survey that we ran on the site. What we heard the most from designers is that we need to do a better job of making a more balanced discoverability of designers on Dribbble.
Our mission is to be the world's best community for designers—whether you're seeking inspiration or a new job opportunity, so to hear this feedback from so many designers, we have made it a priority to improve discoverability.
Dribbblers have been telling us that the sort on our designer list page was broken and that by being the nature of a global list ranked by follower count, we had essentially created a perpetual static page with our earliest members forever at the top of the ranking, getting more exposure, and therefore more followers. This phenomenon has made it very difficult for designers who were not lucky enough to sign-up in the early years to gain exposure and in turn work opportunities.
On the flip side of this story, our earliest members have told us that they receive more work opportunities than they can keep up with, turning away potential clients or shutting off messages entirely.
We dug into our data and the story that designers were telling us was right there in the numbers.

A More Inclusive List
While we're keeping the Following sort so that folks can still find the all-time most popular Dribbblers by follower count, we're excited to introduce a new Trending sort algorithm that is based on engagement in the community. As you view this new list, you'll find great designers who have been uploading shots, getting likes, and comments on those shots – a proxy for doing great work – as well as liking other's shots, leaving constructive comments on shots, not getting flagged, or showing exploitive behavior patterns, etc. – signals that you're being an authentic positive member and mentor of the Dribbble design community. We're still tweaking how the algorithm works, but in essence the more good you provide to the community, the higher you'll rank on the Trending list.
More Designers Getting Work Inquiries
Soon we'll be introducing more affordable pricing for Scout. One of the biggest concerns you expressed was around anxiety that a high price point for Scout will mean less work inquiries in your Dribbble inbox. We'll be exploring some ways to address this issue. Please know that we definitely want your inboxes to be brimming with great job opportunities—so this is a major priority.
More Designer Discoverability Coming Soon
Dribbble is continuing to grow and every week thousands of new designers, creative professionals, hiring managers, and other folks looking for inspiration join Dribbble. Our next big project is going to be redesigning our onboarding flow for new users. Continuing our efforts to get more exposure for designers on Dribbble, one of the focuses of the new onboarding flow will be recommended designers to follow based on the designers most engaged in the community. We'll be sharing more info on onboarding as we progress.
The Best Is Yet To Come
We have a very exciting roadmap ahead of us. In January our team was 8 folks, today we're 24, which means we have more firepower to get a lot more done.
What we learned with the Scout release is that we need to do a much better job communicating changes coming to Dribbble ahead of time. We will be sharing more of our roadmap as we go and we'll be proactively reaching out to designers to get their insights and opinions often and early.
We appreciate your engagement in the Dribbble community and your commitment to make it better. We also want to let you know we are listening.
We profoundly care about this community. We're committed to our mission to be the world's best platform for designers to gain inspiration, feedback, education, community, and job opportunities and we couldn't do it without you.
Find more Updates stories on our blog Courtside. Have a suggestion? Contact stories@dribbble.com.