Pep Rally: Boston, TypeCon
Boston-area designers, "typographic aficionados", and any interested (or aspiring) Dribbblers are invited to attend a special Dribbble Meetup on August 27th, hosted by MyFonts, marking the conclusion of TypeCon and in cahoots with AIGA Boston.
Attendees should be ready for an epic night of type tournaments, analog Dribbble Playoffs, fantastic prizes, food, and excellent company. So clear your Sunday night and don't forget to register for the meetup!
Just for Dribbblers! Get 20% off your registration for TypeCon, with the discount code: TC17GD320PM.
In advance of the meetup, we spoke with the MyFonts folks about TypeCon and the design scene in Boston.
MyFonts
What is TypeCon?
TypeCon is the annual design and typography conference where the type-obsessed, lettering-lovers, and font-fanatics come together to nerd out about fonts, typography, and all things type. It is presented by the non-profit Society of Typographic Aficionados (SOTA), an international organization dedicated to the promotion, study, and support of typography and related arts. Special events include a keynote presentation by lettering artist Martina Flor, the SOTA Spacebar Party, Type Quiz, Silent Auction, our type marketplace, plus several international type exhibitions. Educational presentations, intensive and affordable workshops, panel discussions, networking events, and tours will round out five days' worth of typographic adventures and inspiration.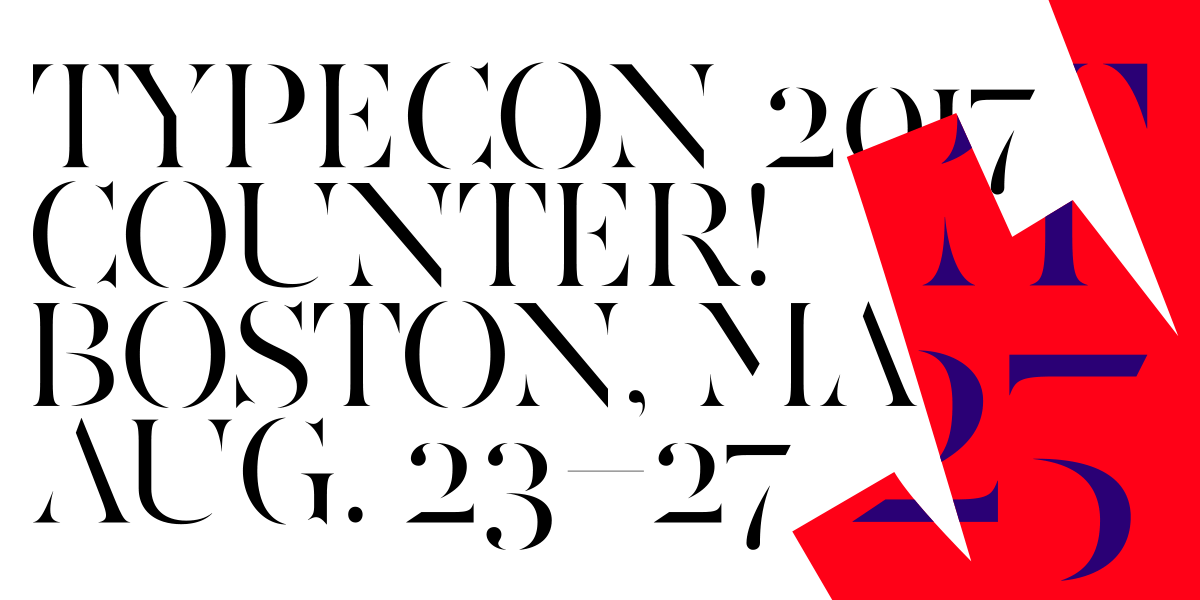 Why Boston? What's special about the design community there?
Each year, TypeCon is held in a different city, and we love to integrate its unique culture and history into our events. This year, we're doing three different type walks where attendees will see historic signs, lettering, and architecture. We are partnering with MassArt for our workshops on everything from sign painting techniques to making variable fonts. We're even taking people out for a day at the Museum of Printing in Haverhill, a museum, library, and workshop dedicated exclusively to typography and the printing arts! Boston has a long history of type companies - Bitstream was founded in Marlborough, MA, Monotype and MyFonts are now headquartered just north of the city in Woburn, MA, and TypeNetwork (formerly FontBureau) was founded in the heart of Boston. Rich in type history and with a thriving design community, it's the perfect place to get together!
Why are you excited to host a Dribbble Meetup as a part of TypeCon?
There are so many talented designers on Dribbble with a passion for typography. We love when the makers - and users - of type come together in one place to talk shop, exchange ideas, and have a great time! It's an opportunity to meet typeface designers, lettering artists, graphic designers, illustrators, and educators from across the country and around the world!
Choose three shots from TypeCon Dribbblers you admire and tell us what you like about each one.
Funky A by Martina Flor, above left.
The lettering extraordinaire Martina Flor will be giving the keynote at TypeCon this year, on Thursday evening at the Park Plaza Hotel. She'll also be selling her new book in our marketplace, and signing copies! This funky A is just so good, we wish there was a whole alphabet to go along with it!
Simple Sketch by Ryan Hamrick, above middle.
Ryan Hamrick will be teaching a workshop called Handling the Curve: Mastering Lettering on the iPad Pro at TypeCon this year, and we just can't wait! In this shot, you can see his impeccable lettering skills.
Font Purchasing Habits Survey Map by Mary Catherine Pflug, above right.
Each year, Mary Catherine Pflug produces the Font Purchasing Habits Survey and shares the results with the type community to help type designers make better marketing and business decisions. This year, she's speaking about the results of the survey at TypeCon on Saturday morning during the main conference program. There promises to be infographs and data galore! Click the mp4 attached to this shot to see the map animated with survey responses coming in over time!
Don't miss out! This event is starts at 7pm on Sunday, August 27th at District Hall.
Find more Meetups stories on our blog Courtside. Have a suggestion? Contact stories@dribbble.com.