Who are you?
I'm a full-time freelance illustrator, currently working accurately with vectors, geometry, full-colored, sweet textures and good mood, from the sunny lands of Valencia, Spain. As a go-getter person, I always try to make something different in my daily work and experimenting with new ways to express myself, working hard to reach my goals and expectations of what I'm doing and what I want to do, evolving and learning with each work I make. That's why side projects are so important to me, is where I feel comfortable to go beyond with my illustrations and concepts. Actually, to be honest, I get bored too easily, that's my curse and blessing to keep my mind in a constantly boiling.
I also love cooking, be surrounded by nature, the sea, books, movies, comics, video games, avocado and salmon, so a combination of these last three would be perfect for a quick trip to Jupiter.
What are you working on?
At the beginning of this week, I finally finished a commission of five different patterns for a local company to be applied on decorative boxes for having your lovely home tidy in a cool way. So I hope to be free until the end of this week to keep working on my last side project, a composition with 22 tropical fish little illustrations. I'm so pumped to show you how it looks!
Choose a favorite shot of yours. Why is it a favorite?
This shot is a part of an exciting project I was working on a month ago. Let me tell you the story in a few lines. This year I had the privilege to be contacted by the team of 36 Days Of Type to be featured as an invited artist for developing the number 6 of the 2017's series, which also was part of the recent official exhibition in Barcelona. The thing is that I was so motivated with the result of the number 6 that I took the decision to start working on the remaining nine numbers for getting the full collection done. The idea was to do little individual illustrations (more than 200!) as pieces of a puzzle to build the shape of each number, playing with colors and bold lines. Have a look at the whole numerology on my website.
Tell us about your setup. What tools did you use to create the shot (e.g. hardware, software, pens, paper, blowtorch)?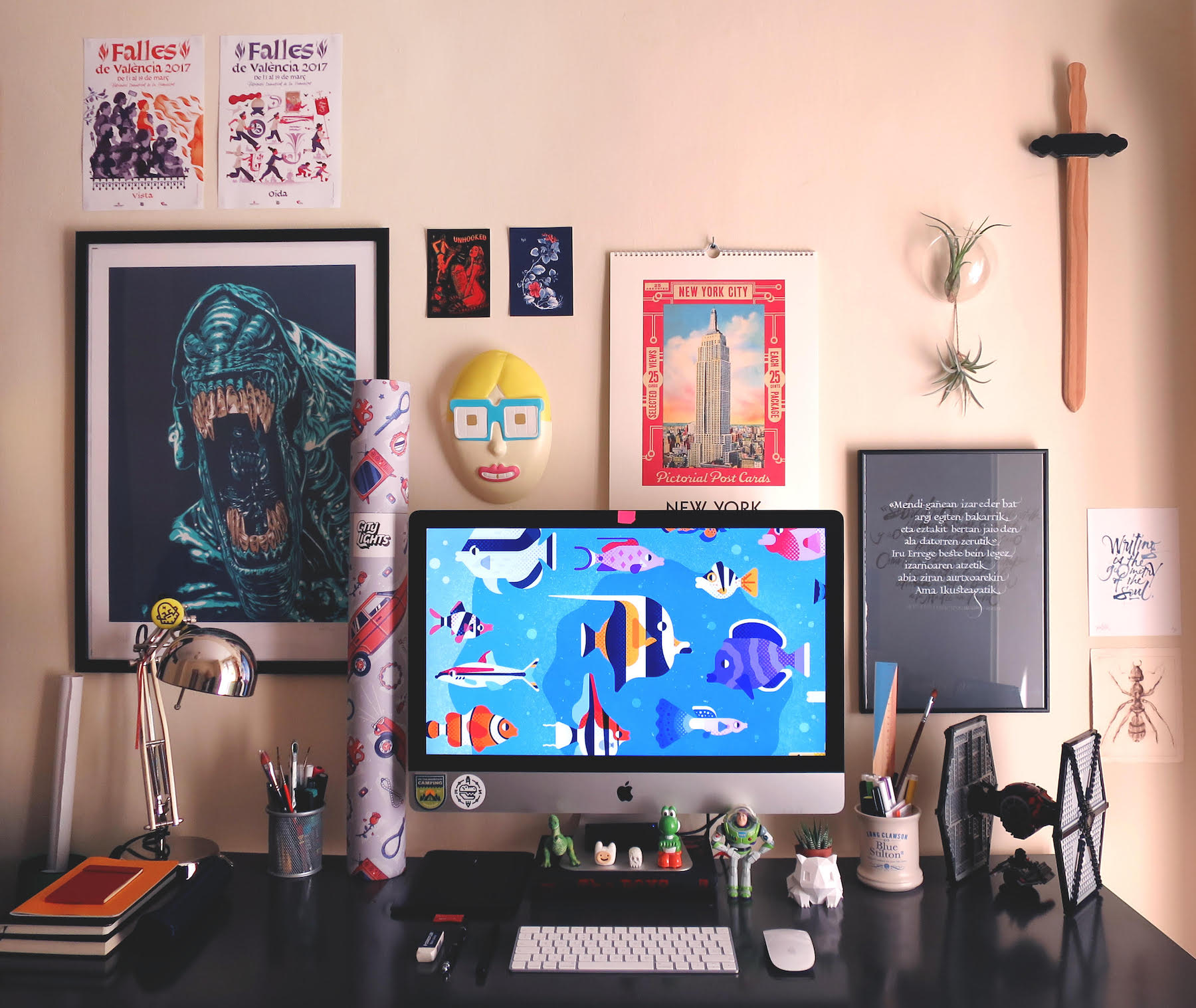 Here is where the magic happens everyday since 6AM, the controls of my spaceship, the place of my happiness, uncertainty, blessedness, concerns, goals, adventures, effort and freedom. I always try to remember to myself to be thankful for doing what I love, and improving my skills for loving what I do. I'm extremely demanding with myself.
I produce the most of my work by Adobe Illustrator, actually sometimes I do the sketches directly in vectors, I love the idea of sketching with pencil and paper but whenever it is for experimentation and open my mind without the limitations of any project. When I have to do some sketches for a real commission, they are really rough compositions the most of the time, nothing to be proud for showing. I also like to use Photoshop for applying textures on my works as a last stage of the process.
Choose a favorite shot from another Player. Why do you dig it?
I bet that It can't exist a more hard answer like this one. Between all the awesome stuff the community produce every week, I have to chose the work of Owen Davey, and in particular this king octopus he made for Experience Magazine for an article about power-mad bosses. Don't forget to take a look at the rest of his work, you will get an injection of inspiration.
Find Eni on Dribbble, Instagram, and at enisaurus.com.
Find more Timeout stories on our blog Courtside. Have a suggestion? Contact stories@dribbble.com.