Boston designers will gather on May 25th for a MyFonts + Dribbble Meetup. The event is now sold out, but you can find the details and waitlist on Eventbrite. Stay tuned for more MyFonts events by following them on Dribbble and Twitter.
In advance of the meetup, we spoke with the team at MyFonts about the design scene in Boston.
MyFonts
Tell us what you love about Boston.
Boston wears two hats—it embraces its history, while also positioning itself as a leading modern metropolis. Also, doughnuts.
Tell us where you work, in relation to the rest of Boston.
MyFonts is located just north of the Boston city limits in Woburn, Massachusetts. The MyFonts team shares an office with our parent company, Monotype, so we're steeped in type day in, day out. Heck, our conference rooms are named after typefaces or type terminology, and the contours of our office hallways are based on letterform shapes.
What's the best part about working at MyFonts?
Getting a chance to constantly work with people making great type and those who use type is awesome. It's exciting bringing new foundries on board to start selling their typefaces. It's always a cool perk to get first-hand looks at new typeface designs before they make their big debut.
Supporting the design community in any way we can is also a big thrill. We recently launched our My Favorite Five newsletter series, where we profile working designers to get their expert type recommendations and introduce their work to our audience. Similarly, getting a chance to get directly out into the design community is also an amazing part of the job. It's a pleasure to meet fellow designers in person to talk shop and see what we can do to make their jobs easier; we're just back from Creative South, and hope to see more of you at similar events in the future.
Tell us about the Boston/Woburn design scene.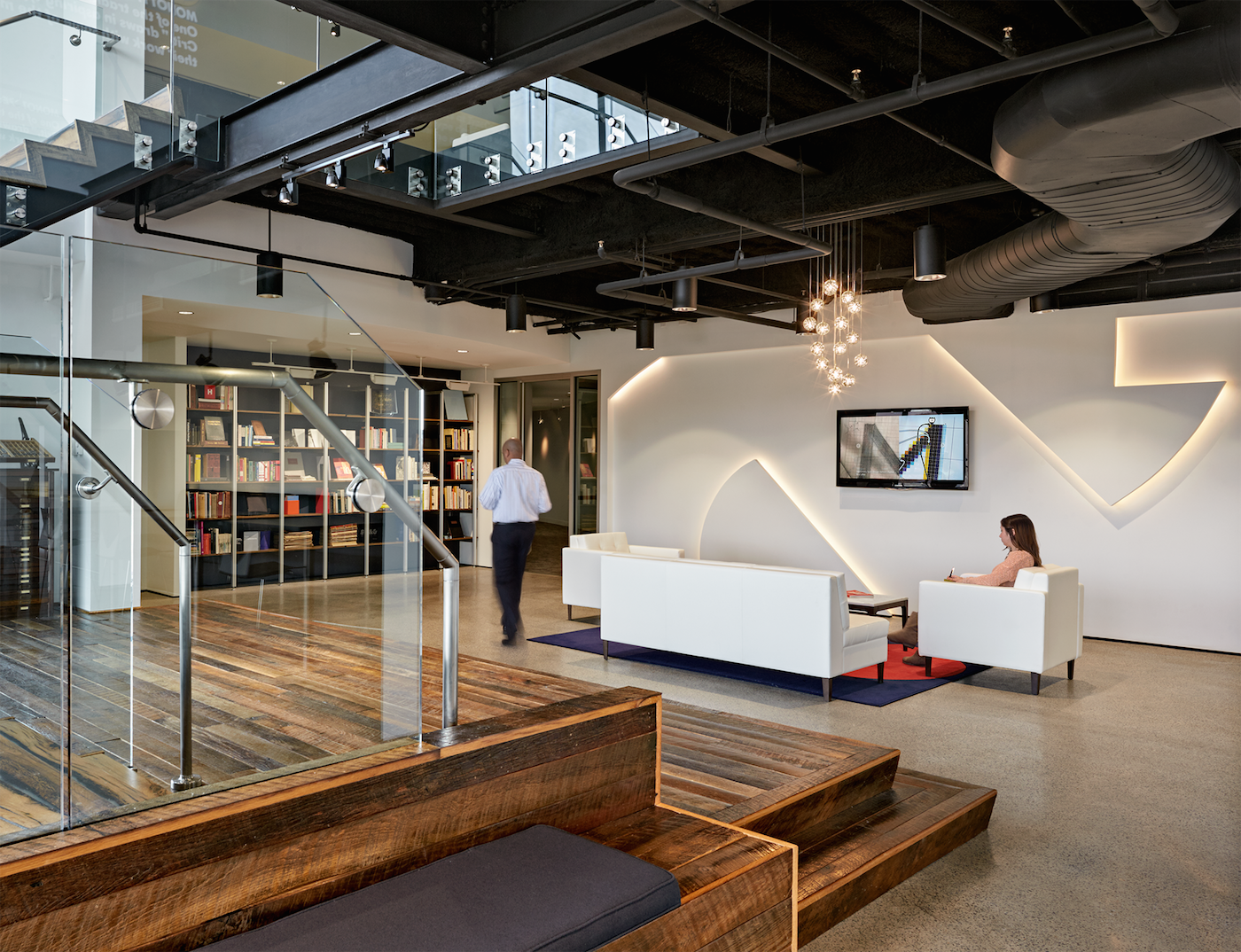 Boston is also home to a bevy of agencies—from big to boutique—as well as other creative studios, and many great places to find design. There are plenty of galleries and museums—including the Museum of Fine Arts and Institute of Contemporary Art—but it's the unexpected places where you can really get your fill of design goodness.
If you're in the area, you have to check out the International Poster Gallery—it's an amazing collection of poster designs from vintage and contemporary artists alike. Lots of amazing type to be seen, and much of it is on a grand scale. Similarly, Boston's Museum of Science is home to a copy of the Mathematica exhibition designed by Charles and Ray Eames in 1961. Its typography is stunning, and it's an immersive experience created by two titans of design. Don't miss it!
If you go north of the city, Haverill, Massachusetts is home to the Museum of Printing. It's an incredible archive of printing history—in addition to their library, there's a litany of presses, type and artifacts for any designer to nerd out on. It's a definite must-see if you're visiting the area.
Choose three shots from Boston Dribbblers you admire and tell us what you like about each one.
Billy Beef by Chris DeLorenzo, above left.
Chris' work is always sharp-witted, and has a habit of striking a chord while relying on restrained palettes of form and color. This shot here is a great example of that—it's playful, approachable, and typographically engaging, all without being heavy-handed.
Bring the Heat by Erik Weikert, above center.
Erik's not only an insanely prolific designer, but he's got incredible typographic sensibilities. The shot here illustrates his talent for hierarchy and employing many different typefaces in a bold, yet dignified voice. Plus, that color palette! If you appreciate type, do yourself a favor and check out the rest of Erik's work.
Greydon House by Jennifer Lucey-Brzoza, above right.
Jennifer's work has such deftness to it—many of her projects feature an ethereal, even ghostly air. This shot is a great example of that; the blackletter type is perfectly balanced by being rendered in watercolor—the result is a delightful visual contrast, one that's simultaneously both heavy and light.
Find MyFonts on Dribbble, Twitter and at myfonts.com.
Ready to start your own Dribbble Meetup? Details at Dribbble Meetups.
Find more Meetups stories on our blog Courtside. Have a suggestion? Contact stories@dribbble.com.