Team Timeout: Chewy Studios
Chewy is changing the way people shop for their pets by offering customers the easiest way to get the premium products they want for their beloved pets and back it with unparalleled customer service.
The design team at Chewy Studios is headquartered in sunny South Florida. Get to know a couple of their Creative Directors in the Team Timeout below. Looking for a position where you can work with a creative team and bring your furry friend to work? Good news—Chewy is hiring.
Who are you and what is your background?
Trevor Lafargue
I'm a Creative Director for our Media studio. I like producing curiously creative projects. I'm also a Louisiana-born, crawfish-lovin' dude with lots of creative energy. I'm flexible; I direct, produce, write and edit media content. I spent 10 years at MTV honing my craft, which is mostly self-taught. Now I help manage a constantly growing team that provides photo and video content for multiple marketing channels like our website, YouTube, and cable television.
I'm also a Creative Director for Chewy who enjoys creating simple and engaging digital experiences. I'm a French-born designer who understands that design is a great tool to solve complex problems. A 16-year design veteran who worked in London, Paris, Toronto, New York and more. Prior to Chewy I spent 8 years in San Francisco helping a wide range of startups by either creating or improving their user experience. Today, I help grow a multi-disciplinary design team to assist our growing business with the Chewy website, app, packaging, print, etc.
How does Chewy cater to the Customer Experience?
Trevor: Chewy definitely makes sure to put customers first and we like authenticity. Besides giving us feedback, our Customer Service Reps are encouraged to treat customers like family. They're also educated on the products we carry. So naturally, it made sense to use real customer service reps for content talent—they understand our products and our customers best. We also try to make our content fun. So we incorporate costumes and mini worlds made from graphics and papercraft. We write in funny jokes (read: dad jokes), in hopes of making the customer laugh while they learn, which enriches the overall shopping experience. And that's the goal.
Antoine: Chewy was a natural fit for me, as a UX designer, it was easy to join a company that puts customer service at the center of its business model. So we listened to our customers and simplified our website, added useful content including fun and educational videos (go Trevor go!), created a mobile app, launched a blog, and so much more. The team is consistently working on improving the customer experience and having access to our Customer Service team has been a tremendous advantage in hearing direct customer feedback.
Choose a favorite shot of yours. Why is it a favorite?
Trevor: Shooting our first "About Us" for our YouTube page. We successfully filmed a single-take video with the team being 90% brand new or having minimal hands-on experience. We took a very big chance and towards the end, we didn't think we could pull it off…but we did.
Antoine: Creating the Chewy app was a significant step for us. It was our very first one and required a lot of effort from many different parts of the company. In the end, our customers were really pleased with the results. What's even more exciting about the app is everything we have yet to do—I'm definitely looking forward to making it a one-of-kind experience for our customers.
Tell us about your setup. What tools did you use to create the shot (e.g. hardware, software, pens, paper, blowtorch)?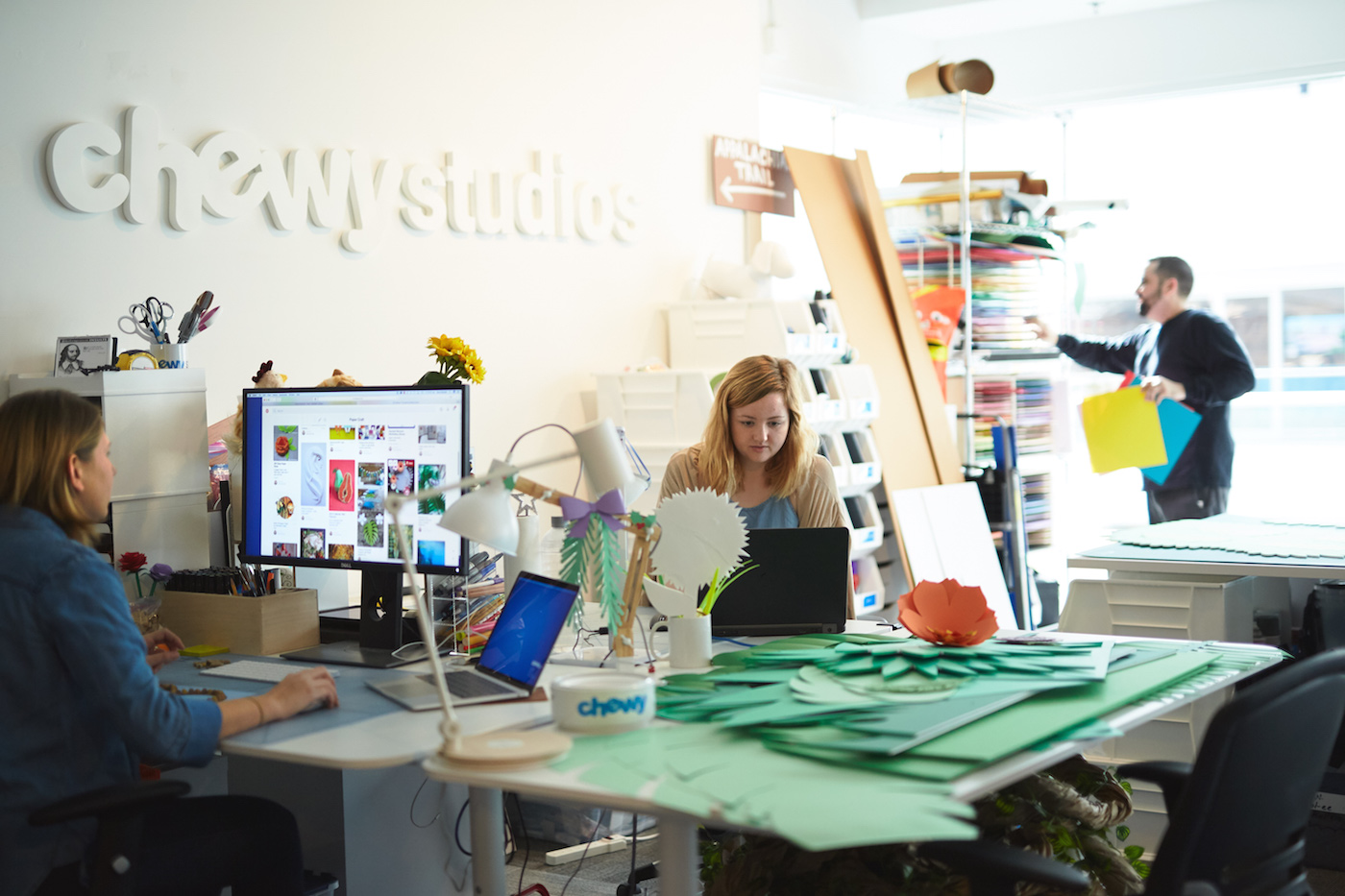 Trevor: Ronin, foam core, craft paper in every color, Ricola, Adobe Premiere, MacPro
Antoine: Sketch, InVision, Photoshop and 10 gallons of coffee
What's the most challenging part of your job?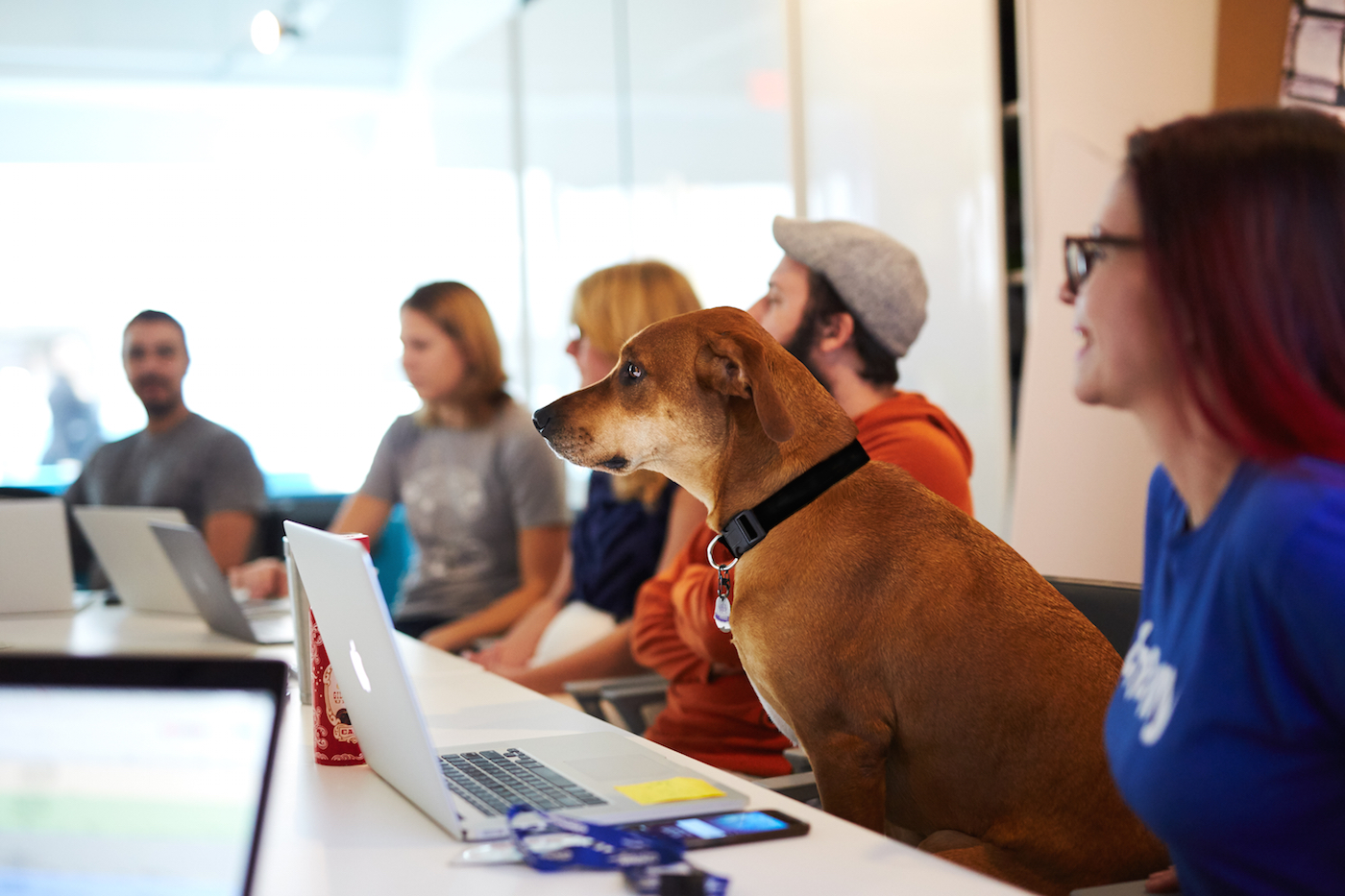 Trevor: Working with live animals. You'll never be prepared. On real sets you have animal wranglers and trained pets. Not here. No one here is professionally trained—we're just a bunch of pet lovers. And the pets we work with either belong to the people who work here, or are from rescues. And cats? Cats will do as they please. But we still manage to get the job done. I have no idea how. Maybe it's all the treats we give them.
Antoine: Growing the design team has been a challenge. While we found a few talented designers locally, the last 4 have been from out of State (Seattle, Cleveland, Philadelphia, Pittsburgh), and we'll need to double the team within the next 10 months to keep up. Luckily we are opening a new office in Boston and have already met a few amazing people there.
Choose a favorite shot from another Player. Why do you dig it?
Trevor: This still from Etsy gives us life. It's vibrant and meticulously done. Whenever we need inspiration, we go to Etsy. They can take any medium-paper, clay, beads, toilet seats–and tell a story with it. And we want to do the same, but with pet food!
Antoine: This cute animation is amazing in its simplicity and attention to details, I'm also a big fan of Markus Magnusson's work so I might be a little bias.
Find Chewy on Dribbble, on Twitter, and at www.chewy.com.
Find Trevor on Dribbble.
Find Antoine on Dribbble and on Twitter.
Find more Timeout stories on our blog Courtside. Have a suggestion? Contact stories@dribbble.com.