Who are you?
I'm Lauren Dickens, aka LD, a creative person and Texas native currently living in Austin. For the past few years I've worked as senior designer for Helms Workshop, a strategic branding studio, but I have recently made the leap to full-time freelance. I'm really excited about starting a new chapter and building on the knowledge and skill set I've gained in my own way [insert piece about crippling self-doubt]. I also make things you can wear/use under the name Awful Goods. In my free time I'm either playing with a basketball or a dog.
What are you working on?
I just wrapped up a Texas Emojis project that was super fun. Me and a few other artists were asked to design 30 unique Texas-themed stickers that will be available for download through the app store. I'm really pleased with how they turned out and can't wait to use them in action. Look out for them soon. While at Helms, we typically always had a beer client in the studio, which worked out brilliantly for me since I married it a few years ago. I'd definitely like to continue that type of work. I also do a healthy bit of self-initiated projects, more as a release than anything else. I'm a designer, and I love solving problems for people, but there's also this side of me that wants to create something beautiful and personal that people might relate to.
Choose a favorite shot of yours. Why is it a favorite?
This is a favorite of mine because of the simplicity of form and color, and because I did it with my hands. Anytime I can strip away anything superfluous and create a successful piece, it feels good. Here, I brought out the natural beauty of the material by using a light stain on the wood, and then hand painted the design directly on the board in layers, to give the effect that the arrows are sitting on top of the deck.
Tell us about your setup. What tools did you use to create the shot (e.g. hardware, software, pens, paper, blowtorch)?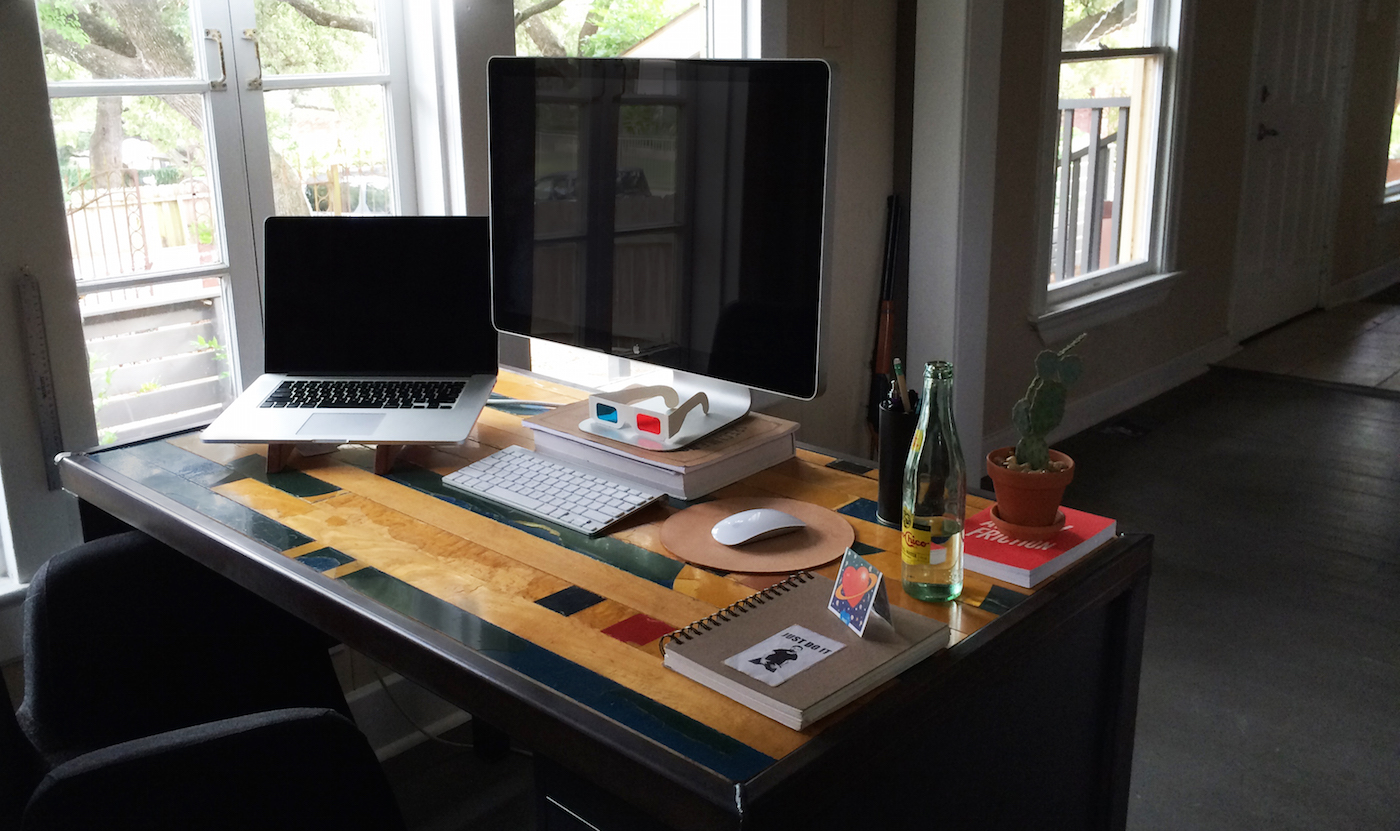 For this project (shot above) I used the computer, my hands, lots of painters tape and vinyl to get my edges straight, 1 Shot (sign painter's pigment), and time. And that mound of flesh and neurons in my head.
On and around my desk I have books and little trinkets that I find cool or inspiring, including a cactus I have not watered for a year that is THRIVING. My usual set up is pretty standard. Macbook Pro, monitor, mouse. I don't use a tablet at all. I typically sketch ideas pretty loosely and move to the computer fairly quickly. I'm proud of my lo-fi ways and maybe little stubborn as well.
Choose a favorite shot from another Player. Why do you dig it?
This is a current favorite of mine. Jay Fletcher is the master of using the simplest shapes to create forms that are expressive and balanced. He makes it look effortless. Blows my mind. I highly suggest you go scroll through his page, and then feel terrible about yourself.
Find Lauren on Dribbble, on Twitter, and at laurendickens.cool.
Find more Interviews stories on our blog Courtside. Have a suggestion? Contact stories@dribbble.com.