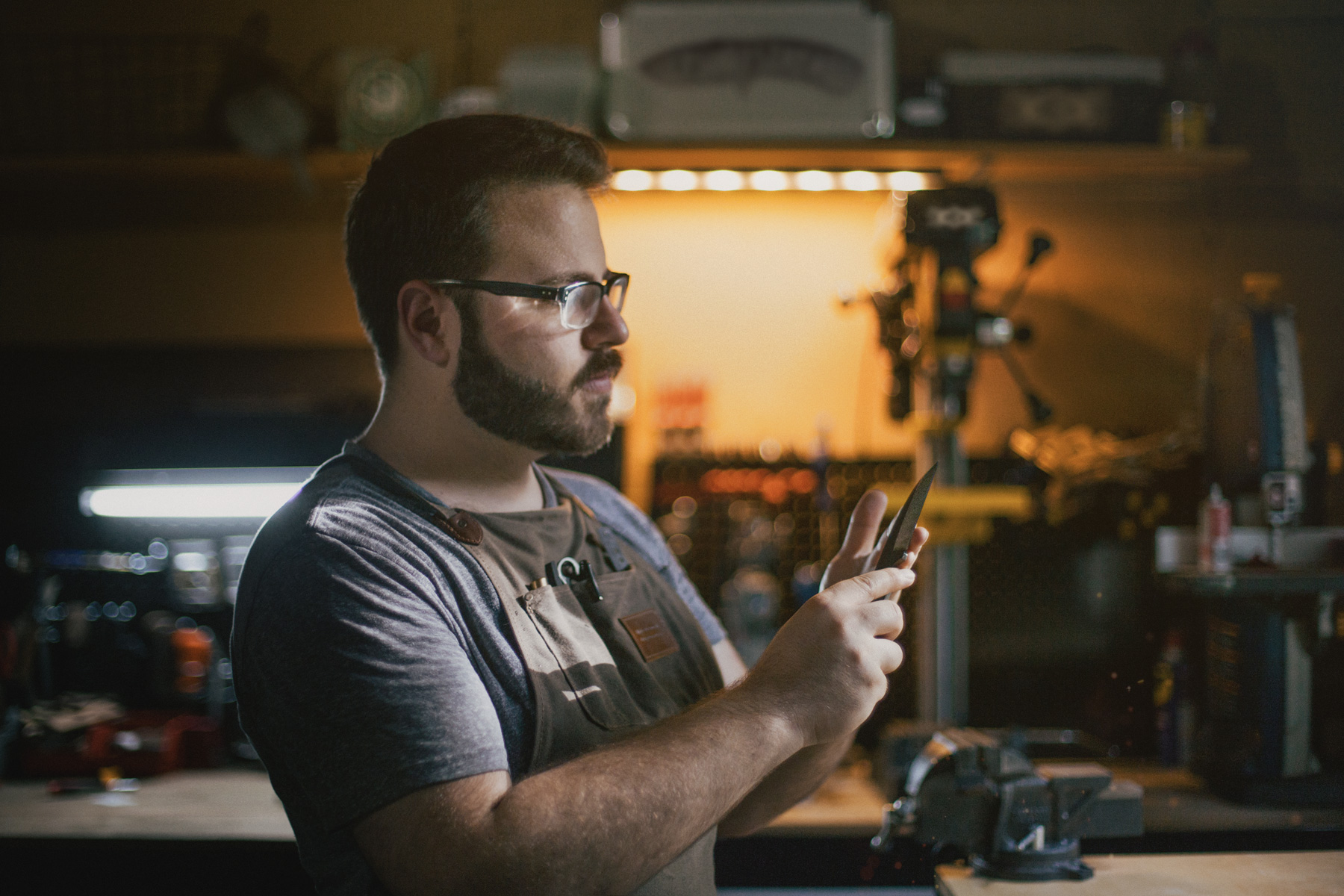 After a long day of pushing pixels, the weary designer needs to unwind. Maybe attack the Netflix queue. Or shake a cocktail. Or go for a run. Catch a fish. Read a book. Call a friend. Make a knife.
Wait, what?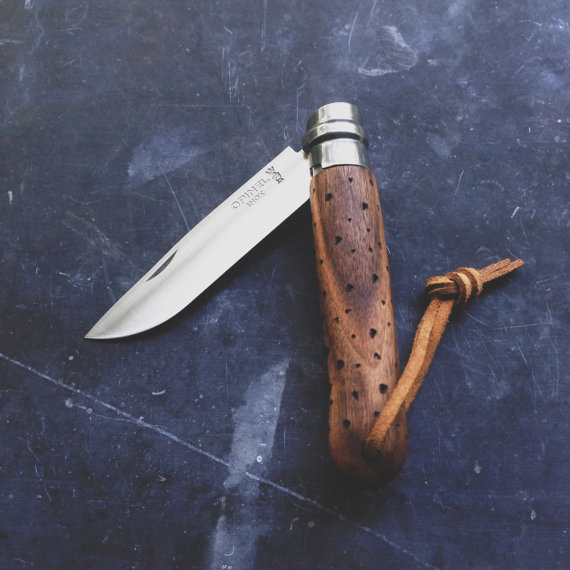 Jared Laham spends his weekdays as the creative director of iMarc, a digital agency with offices in Newburyport, Mass., and Santa Cruz, Calif. Come nights and weekends, he toils at a different kind of work, creating knives for his New Hampshire-based company Laham Made.
"It gives me a chance to unwind and focus on something without business goals or multiple stakeholders. This always puts my mind in a Zen kinda place where I problem-solve beyond what's on my bench while grinding a blade or shaping a handle."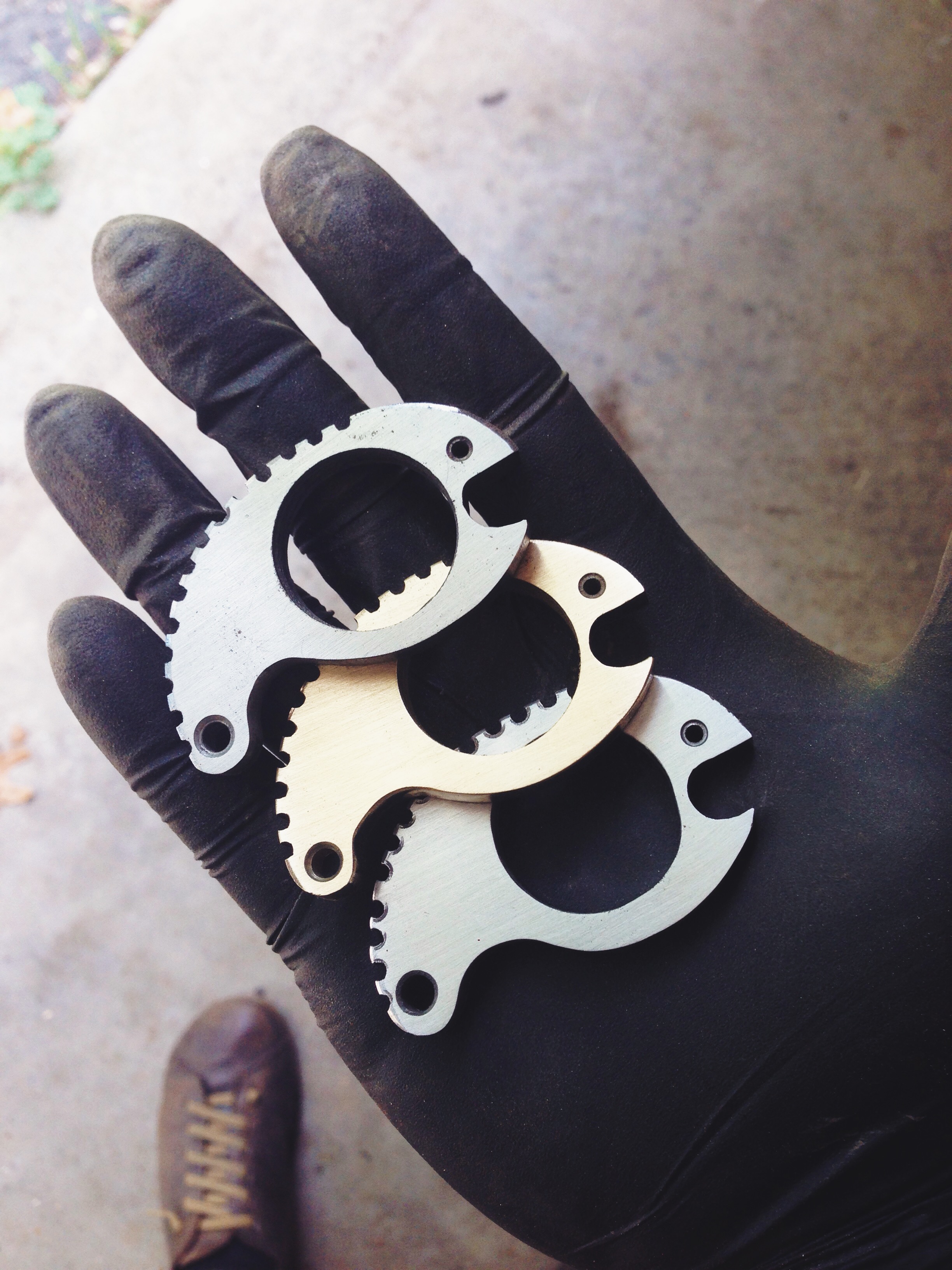 In addition to knives, which come in hand-stitched sheaths, Jared sells tools and gear such as his Radpoles, fierce little handcrafted bottle openers. Getting his hands busy shaping steel or carving a knife handle offers his maker's mind the chance to appreciate texture and celebrate imperfection, something not always a part of the creating he undertakes at work.
"In digital design and mass-produced products, things can be a little too perfect. I enjoy the imperfection in woodgrain or leather stitching on a knife sheath. For me, it's these qualities that help it feel more real, more human."
Though they offer him different creative experiences, Jared points out that both his day and his night work offer him the chance to design functional and attractive products. "It's this overlap that makes me a more empathetic designer and ultimately helps my creativity thrive."
Below, Jared explains the process behind Laham Made's logo.
"Forming the brand behind Laham Made has been where my two worlds meet. There's an understanding that both the visual identity and brand personality has to feel authentic and pull sensibilities from knife making. The shot above is a great example of these two worlds coming together. 'Keep Sharp Stay Wild' is Laham Made's mantra, speaking to be the style, personality and reflecting the materials as well.
"I started by sketching out a few lettering ideas on various knife templates I already had on my bench. The placement of the text was deliberate: 'Keep Sharp' is right over the honed blade and 'Stay Wild' is over the rustic handle, enhancing the message and speaking directly to the style of knives I create."

"Being able to design my knife designs in Adobe Illustrator and even mock up the desired final look in Photoshop before I cut a single piece of metal gives me an advantage to visualize where I want it to end up and help customers decide what they would like their custom knife to look like. I do the same preview with website design compositions (although it seems to be shifting now to in-browser design) for clients. Showing how it will look at the outset builds trust, makes sure we are speaking the same visual language and gets customers excited. Which is what its all about for me. Beyond selling knives, I love hearing how much people enjoy them and how people carry something I create for them every day.
"Passion feeds creativity. Creativity drives aesthetic. Aesthetic confirms quality. Quality is Hard work … Keep Sharp Stay Wild."
Find Jared at Dribbble, on Twitter, at JaredLaham.com, on Instagram, and at Laham Made.
Moonlighting is an occasional series about designers who spend a significant amount of professional time not designing. Check out Ramsay Lanier, accountant/designer/developer, and Wesley George, pharmacist/designer. Fit the bill? Email stories@dribbble.com.
Find more Inspiration stories on our blog Courtside. Have a suggestion? Contact stories@dribbble.com.