Every now and again, you tell us an amazing story. Dribbble changed your career path, helped you go freelance, connect with other creatives, grow your company, make a big change. These stories are a testament to your talent. We're bowled over by what you create on a daily basis, and it doesn't surprise us that potential employers, collaborators and clients are similarly wowed.
We may not be surprised to hear you've received well-deserved attention, but it still makes us happy and provides us welcome insight. When you share these stories, we learn more about how you're using Dribbble, how your clients are using Dribbble, and how you've achieved a win using Dribbble. When you win, we win.
In our new series "For the Win," we're going to share some of the good news Dribbblers have shared with us. First up: Murat Mutlu, co-founder of Marvel.

My name's Murat, I'm the co-founder of Marvel, a prototyping tool for designers.
I just wanted to let you know about the massive impact Dribbble has had, not only on my career but in getting Marvel off the ground and also hiring our first few team members.
A few years ago I was invited to Dribbble just as I was making the leap from agency life. I wanted to go freelance so I could have more time to work on my own stuff.
In that time it helped me keep a roof over my head and build out my network, not only of clients but other like-minded designers. More importantly it allowed me to get the product design experience I desperately needed.
Coming from an agency background, my skills and portfolio were limited to branded apps and dreadful throwaway campaigns.
It was such a joy working with startups and being exposed to a completely different set of clients through Dribbble. However in the back of my mind I knew that I wanted to created my own product. The trouble is that I never had an idea.
Then early last year I had the idea for a simple prototyping tool that ran off Dropbox and kept your prototypes in sync with any changes.
I teamed up with one of my friends, a backend developer named Brendan Moore, and got started. We needed front-end help and I found Oleg Tsaplin on Dribbble (recommended to me by Stuart who I also met from Dribbble).

We worked through the summer in our spare time and created an MVP, which we launched in September. Within a few weeks we had over 1,000 users (many of them were my Dribbble followers and supporters) and we managed to raise some angel funding to go full-time on Marvel and try and build something that could turn into a business.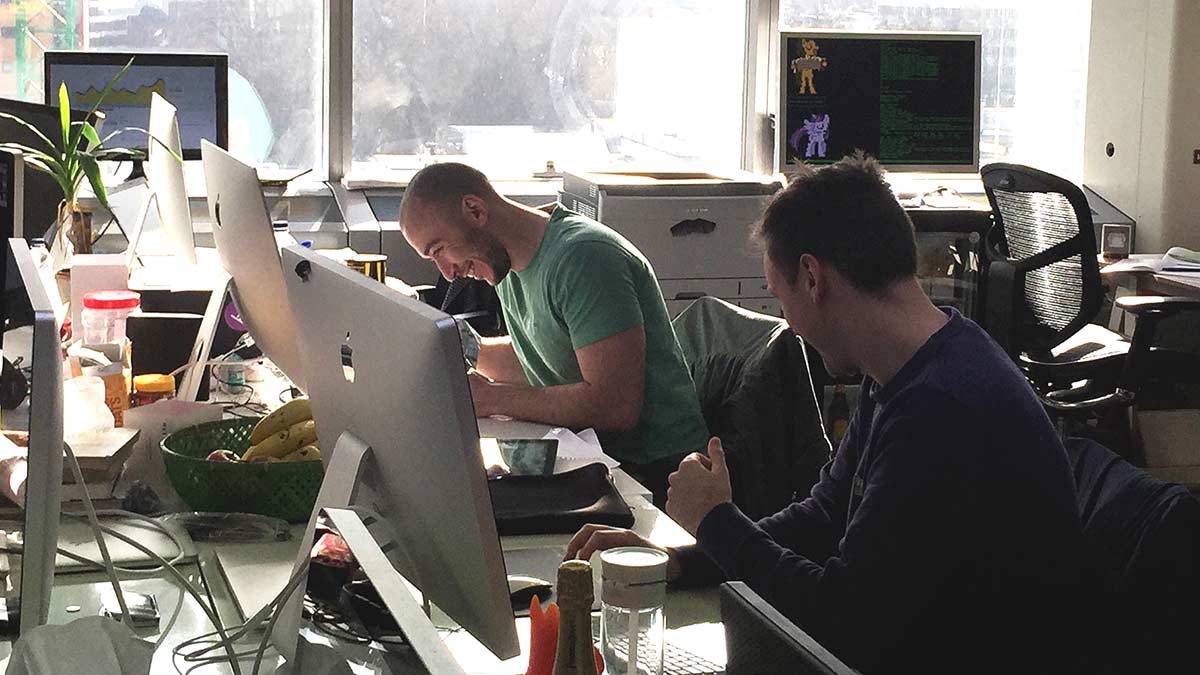 Murat and Max working in their studio. We see bananas.
Over 6 months we gathered steam and a few months ago we raised $820k in a seed round. I was then able to hire another Dribbbler whose work I had admired for a long time, Maxime De Greve.
I then reached out to the awesome Henrique Athayde to create our illustrations for the site and app, which have gone down a storm.
I became good friends with Oykun Yilmaz through Dribbble, who introduced me to Dean Blacc, a backend developer who we hired.
We're now at 70,000 users and our most loyal supporters are still the ones who watched Marvel grow from Dribbble shots into a fully fledged startup.
It feels like some sort of Dribbble circle of life, going from freelancer to founder, hiring players who will probably end up starting their own thing in a few years and doing the same.
Thanks for building such a great platform! If you're ever in London would love to buy you a beer sometime.
[Ed. Note: Yes! We're in. Beer, London.]
Cheers and all the best for 2015!
Find Murat at Dribbble and on Twitter.
Find Marvel at Dribbble, on Twitter and at www.marvelapp.com.
Find more For the Win stories on our blog Courtside. Have a suggestion? Contact stories@dribbble.com.