Who are you?
Hi everyone! My name is Maria Shanina. I'm a web and mobile designer based in Saint Petersburg, Russia. I studied in different art schools when I was a child and wanted to be a famous architect. But rapidly growing interest in IT and appearance of the iPhone changed my plans. I studied web design and development at the university and graduated with a bachelor's degree. I'm really happy I did it, because I love what I do. For a time I worked at several large and small design companies, where I was involved in designing websites and smartphone applications, and now I'm working as a designer at PlainWhite, a small agency I co-founded recently with my husband. (He's a developer, yeah I'm a lucky girl!)
### What are you working on? At PlainWhite I'm working primarily on clients' projects with clients all around the world, designing and developing iOS apps, web apps, and landing pages; drawing logos and app icons. I'm also working on a few personal projects like Glowee and Poloska. The latest is a Route Tracker app for "Friday lovers,"" as we call it . Hopefully it will be in the App Store soon.
[Editor's Note: Glowee is an app for people who love photography and light painting. The app includes a long exposure camera simulator which allows users to take their own light paintings. Poloska "allows you to take amazing photos with the slit photography technique, which is primarily used to determine the winners in sports competitions during photo-finish."]
Choose a favorite shot.
Each shot I've worked on was really interesting and challenging for me. I always try to find something in a particular project that helps me to make the project unique, visually interesting and attractive for users, and I always try to show this to others. I think it's Glowee 2.0 that is my favorite. I'm proud of this shot because, while putting the Glowee stuff together for sharing it on Dribbble, I found my own style which I'm carrying through my other presentations and portfolios.
Tell us about your setup.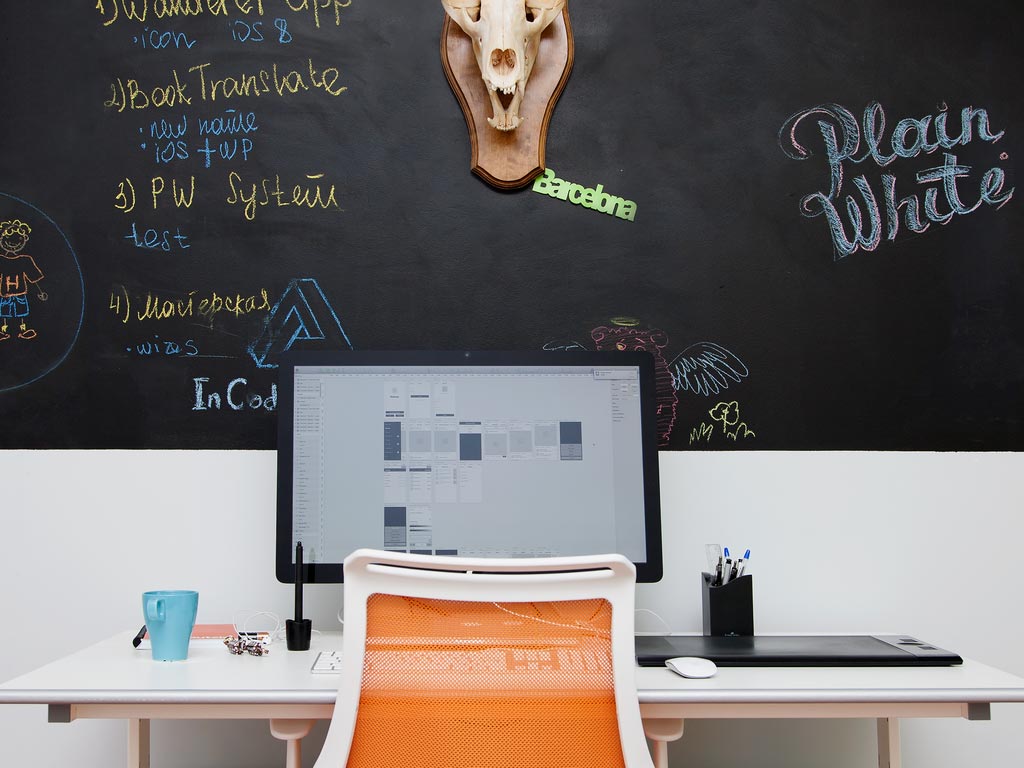 Recently we moved into a new office in the heart of the old city and it's been a lot of fun to set up everything there, including a chalkboard and a bear skull on the wall. On my desk you can also find my good old Wacom tablet that is plugged into the Cinema Display and MacBook Pro. Since I'm a doodle addict, my desk is covered with various types of pencils, paper, pens, moleskine sketchbooks, markers, watercolors … and sometimes it looks like a mess but I'm honestly trying to keep it clean. I design in Sketch3, a very useful software for interface designers, though some work I still do in Photoshop. Every morning begins with a cup of tea and checking my mailbox. I know there are a lot of productivity apps, but you can call me conservative, Mail and iCal help me to keep everything organized and be updated. Oh, and sticky notes of course, love them!
Choose a favorite shot from another player.
Hummingbird by Eddie Lobanovskiy. Before I saw this shot I knew Eddie as an interface designer, attentive to details and usability. And now there is this absolutely stunning bird. I like how flower petals become the wings of this beautiful bird. The composition is strong and dynamic, and at the same time the color palette Eddie has chosen brings calmness and joy to the painting. So you can look at it and think that life is absolutely amazing!!
Find Maria at Dribbble, on Twitter, and at plainwhite.co.
Find more Interviews stories on our blog Courtside. Have a suggestion? Contact stories@dribbble.com.