James Forrest: Designer by Day, Composer by Night
Perspective. That's what designer Jim Forrest's music has afforded him. Perspective.
When Jim was a young designer, "I would fall on my sword over the littlest things—it really mattered to me!" Then, in Jim's words, "I got a life!" He began playing around with design outside work, making prints and creating art. He also allowed himself time to pursue music, via composing, DJ-ing, and working in-studio for Aerosmith and various Boston hip-hop acts.
Eventually, the lines delineating work-work from side projects, design from music, began to melt. Jim found his voice as an artist, both visual and musical. His art "got more strategic, more creative, and more collaborative."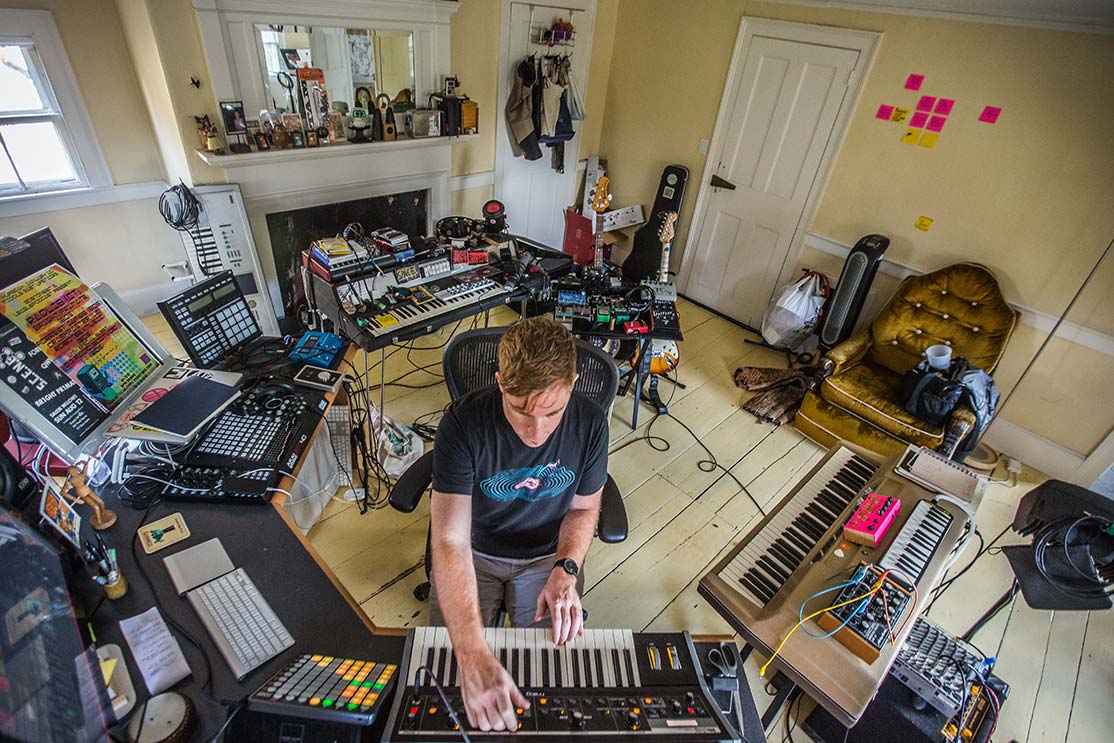 As a designer, Jim's worked as creative director for Salem's Peabody Essex Museum and the Berklee College of Music's online school and most recently tackled product design as the head of creative at Change Collective, "a mobile course platform led by world-class experts, designed to help you reach your lifestyle goals through an app that keeps you accountable."
On the music front, Jim co-founded experimental electronic band Machine 475 and collaborated (as a musician and designer) on Yo-Yo Ma's Silk Road Ensemble. Currently he spends early mornings and late nights producing and DJ-ing Ambient/Chillwave/Dub/House music under the name Forrest James.
Jim's also composing an album with Swedish singer Jerker Rellmark, employing methods he's practiced on the product design front. "I've been using some Agile methods … and it's been really helpful. I'm using Trello for my new album … and it has worked wonders. I couldn't imagine trading emails back and forth for song edits.
"Ultimately, having a solid process for me has allowed for more creativity because all the remedial stuff feels lighter and more transparent."
Below, Jim discusses his process designing the cover for his single, "Mockingbird."
"Like a lot of hybrid designer/musicians I get really excited when I am done with a single, album, EP, etc., because then I can start creating visuals for it! Designing for music is very liberating because you are designing to translate emotions so there is never a formula and it is wide open, unlike my day job.
"I am particularly fond of this shot because as I was exploring type forms for it I came upon my new logo mark. I created my name in this type style and it was way too much, so I isolated the F, duplicated and rotated it, and made my initials, which felt right. I love a minimal palette and this very much satisfied that desire. Also it would look really good sewn into one of those '70's style polyester tight suits that James Brown used to wear … .""
Find Jim at Dribbble, on Twitter, and at www.forrestjamesmusic.com.
Moonlighting is an occasional series about designers who spend a significant amount of professional time not designing. Fit the bill? Email stories@dribbble.com.
Find more Inspiration stories on our blog Courtside. Have a suggestion? Contact stories@dribbble.com.