Freelance
How to make an invoice as a freelancer 101
The freelance graphic designer's checklist for creating a professional invoice. Learn best practices for sending invoices to clients and templates to help you get started.
August 06, 2021
Browse Freelance Jobs
Art by Ashley Lulkovitz
Whether you freelance occasionally or own a small business, you need to know how to create an invoice. Otherwise, how are you going to get paid for your work?
Proper invoicing not only ensures that you get paid on time, but it also comes in handy to keep track of your income and which customers pay promptly vs. which ones require reminders to make their payments.
In this article, we'll break down how to make an invoice, plus, we'll share our top recommendations for both free invoice templates (that anyone can use) and templates for serious freelance professionals.
But first, what is an invoice anyways?
Art by Mia Ditmanson
What is an invoice?
An invoice is an official document sent to customers that details the products or services rendered, along with the total cost(s) associated.
Invoices serve a couple of different functions. The first (and most obvious), is to let clients know how much money they owe you and when that payment is due.
Second, invoices are a valuable record-keeping tool. They serve as a record of the work you've done, for who, and how much you were paid. They can also be used to keep track of outstanding payments.
What to include in your invoice
Invoices include a number of parts. Some of these parts are to help you keep records, while others also serve your clients' record-keeping needs. Here's a quick checklist of items each of your invoices should include:
An invoice number: This makes it easier for clients to reference the appropriate invoice when they pay you, and also makes it easier for you to organize those invoices or search for them. An invoice number will also give you an idea of how many invoices you've sent in a year, depending on how you use them.
The date of the invoice: The date you send the invoice is important for record-keeping purposes (both yours and the client's), as well as for calculating the payment due date.
The date the services were completed: This date provides a clue to both you and the client about what the invoice is for. Ideally, this should be a date fairly close to the invoice date (you should always send invoices promptly).
The invoice due date: This is another pretty self-explanatory element. You need to make it clear to your client when you expect payment from them. Typically, invoices are due 30 days from the date they're sent, though you may have different terms spelled out in your contract.
Your name and contact information: This reasoning for this one is pretty obvious: clients need to know who they're being billed by and who to contact if they have questions.
Your client's name and contact information: This is mostly for your own record-keeping purposes, but also assures the client that they've received the right invoice.
The services rendered: Depending on how you charge for your services, this may be more or less detailed. It should also note whether this is a payment for part of the project or the entire project. 
The amount due for each service: This will vary depending on how you bill for your projects and may include only a single item or multiple items.
The total amount due: Make it easy for your client to figure out how much they actually owe you. It also makes it easy for you to keep track of your income, the amount you've been paid, and what you're still due.
Payment Terms & Conditions: This should spell out what happens if the payment is not made on time. Is there a late fee or penalty (such as retaining the rights to the work until payment is made in full)? Or possibly a discount for paying promptly?
Payment Methods: Make it easy for clients to pay you by providing multiple payment options. These may include things like mailed checks, bank transfers, or credit card payments. The easier it is to pay you, the more likely you'll be paid promptly.
That may seem like a lot of information to keep track of and include, but most modern invoicing software will include all of those things in their default invoice templates. We'll share some of our favorite invoicing tools and software later on.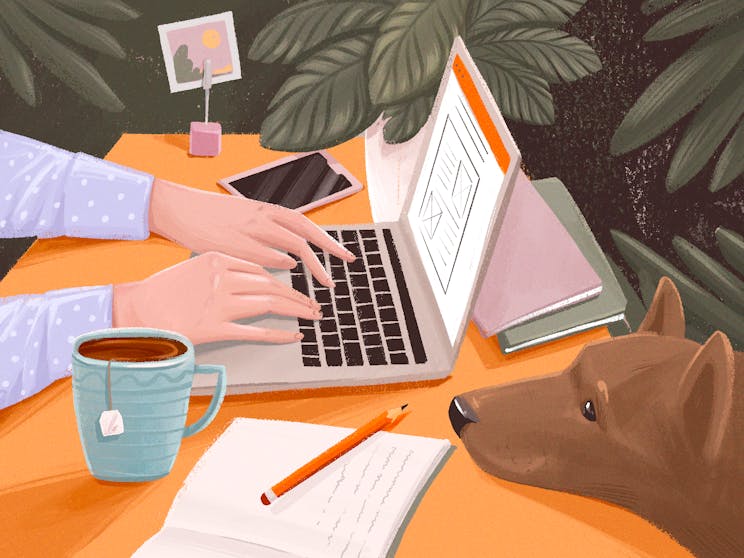 Art by tubik.arts
How do I send an invoice to clients?
You should always bill clients promptly, either according to the schedule laid out in your contract or as soon as work is completed. When you invoice promptly, you're more likely to get paid promptly.
Depending on whether you're billing on a per-project or hourly basis, you'll want to set up your invoices a little bit differently. 
If you're billing hourly, you'll want to describe each service you provided along with the number of hours for each one, the hourly rate, and the total charge for that part of the project. For example, you might have a line item for user research, another one for design mockups, and a third for user testing. 
It's not too much different if you're billing on a project basis. You should still break down the various parts of the project, but there's no need to fill in an hourly rate or the number of hours spent. You'd simply include the total for each line item.
When sending the invoice to your client, include a personal note. It's a good idea to reference that it's an invoice, mention the project it's for, and thank them for their business. 
Invoicing is another opportunity to reinforce a good client relationship. When you send invoices that are clear and concise, with easy payment options, you're sending a signal to your clients that you value their business and are easy to work with. 
Ready to Start your Freelance Design Business? Get Leads Today!
Learn More Today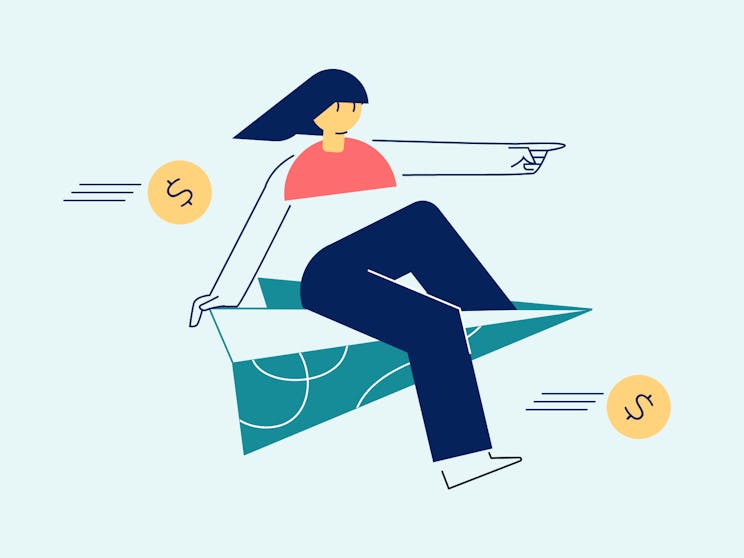 Art by Javasloth Studio
Use an invoice template to get started
Ready to create your first invoice? The good news is that there are plenty of free invoice templates available on the web. However, if you're a professional freelancer, we highly recommend investing in a more robust tool to help you create, track, and manage your invoices.
If you're serious about nailing the invoicing process, sign up for Bonsai to help. With Bonsai, you can create a professional invoice and customize it to your needs, as well as automate late payment reminders. Bonsai not only helps you get paid faster, but it also offers freelancers and small business owners an all-in-one platform to organize their tasks, projects, proposals, taxes, and more.
For a free option, Google Docs offers a great invoice template for one-off invoicing needs or if you're just starting out in the freelancing world and don't want to commit to a full suite of tools. Simply customize each line item in the Google Docs template to reflect services completed and total cost associated. Save the invoice as a PDF, download it, and send it off to your clients.
Customize your invoice template based on your needs
Knowing how to make an invoice and what it should include is one thing, but choosing the right invoice template for your business needs is key. If you're serious about freelancing, signing up for a billing software like Bonsai will give you greater support and flexibility when creating and tracking invoices.
Bonsai offers customizable professional invoices that work for freelancers of all types and allow you to get specific about important details like payment terms and ultimately help you save time by automating the invoicing process.
However, if you're just starting out in the freelance world, a free invoice template is a great alternative to help you create and send your first few invoices and get accustomed to the process.
Build your brand & unlock new 
opportunities with Dribbble Pro
Learn more now
The #1 creative community online

Exclusive access to 1000s of leads

Create an instant portfolio in minutes

Promote your goods seamlessly