Who are you?
I'm Rene Agudelo, a passionate, independent, senior graphic designer from Bogotá, Colombia.
My background in design has been brand identity, typography, and illustration. Over the last couple of years I've also been working on UI/UX projects, which I've really enjoyed because I've been able to merge all my skillsets such as composition, branding, and illustration. I've been fortunate enough to have worked with some well-known brands such as Strava and HBA, among others.
From an early age, I noticed the importance of design and its impact on one's perceptions and usability of products. I could clearly see the difference and benefit of buying a pair of original Adidas shoes, rather than a more affordable good fake pair. It wasn't only because I noticed a weird tracking on the typeface and an out of scale Adidas symbol, it was also that I appreciated the comfort, quality and the overall experience with the originals. In my mind, design consists of more elements than just how something looks.
On top of design, I also dig coffee and beer quite a bit!
What are you working on?
At the moment I'm working on a project that involves both illustration and UI. I was commissioned by a startup in NYC, and while I can't go into specifics yet, I can say that it's been quite challenging because of the complexity of its target market. That said, I'm having a lot of fun with it.
I'm also working on a personal UI/UX project on the side.
Choose a favorite shot of yours. Why is it a favorite?
I lived in Melbourne for nearly two years and after returning home to Bogotá almost a year ago, I noticed a lack of tasty ale beers in the Bogotanian market. So a bunch of friends and I decided to make beer, and with this came the opportunity to create a logo for the brewery. This was very exciting for me as it was something that I've always wanted to do but never had the opportunity.
The idea was to represent the different kinds of beer with our faces. I'm pale ale, but I still have to work out who's a good fit for IPA, brown ale, and whatever comes next. The name ¨Rene & Co¨ was a bit of a joke to make my friends angry.
Tell us about your setup. What tools did you use to create the shot (e.g. hardware, software, pens, paper, blowtorch)?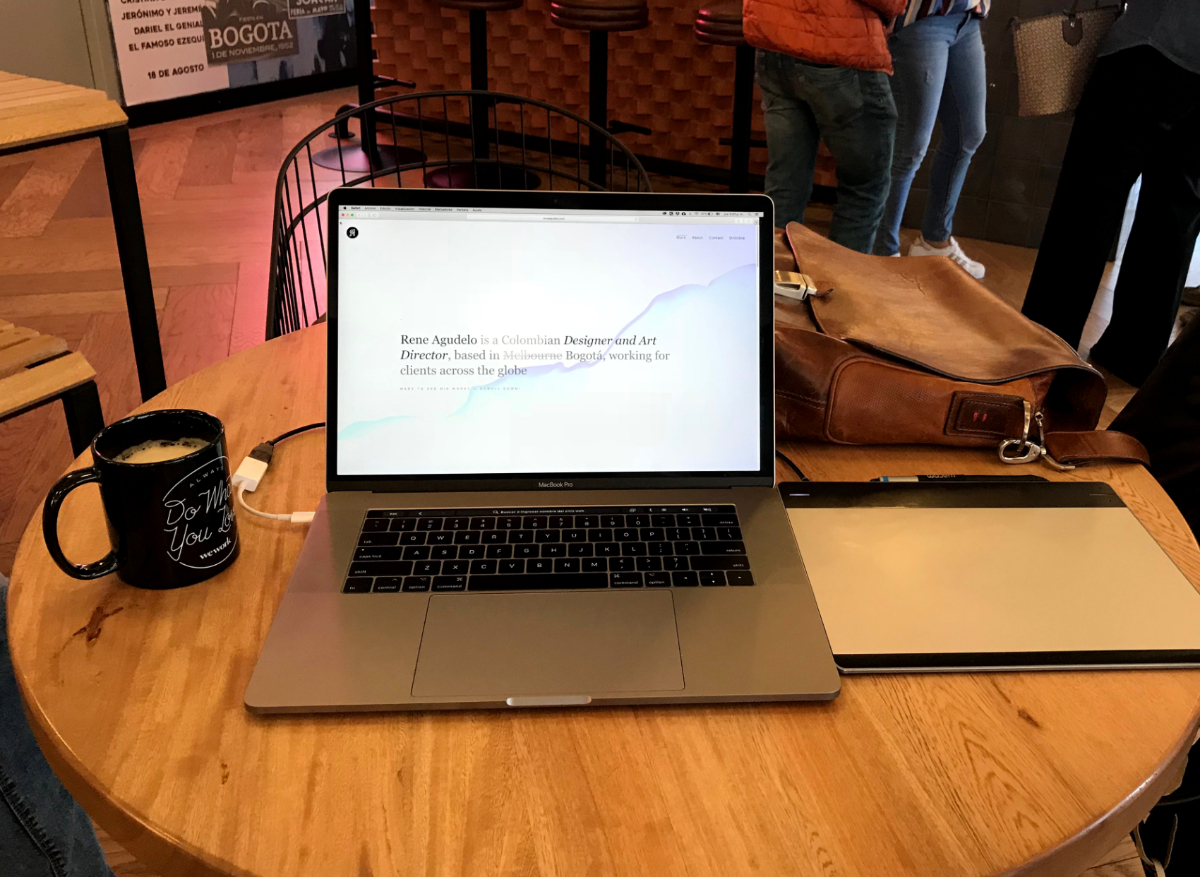 I work on a 15 inch" Mackbook pro 2017, and when I am in need of more room on the screen, I plug in my iPad Air using the app Duet. Also, I have a Wacom pen & touch, pencils and paper.
Most of the time I am working in Sketch and Illustrator, but lately I've been playing around with Principle as well.
Choose a favorite shot from another Player. Why do you dig it?
The work from the folks from InVision, particularly this shot— it's just amazing! You can clearly see the skill of their talented designers in this example. For me, it represents all aspects that a project should possess: artisanry, good direction, overall brand design, illustration, flowing composition, excellent UI/UX, and some motion on top of it all!
Find Rene on Dribbble, Instagram, and reneagudelo.com.
Find more Timeout stories on our blog Courtside. Have a suggestion? Contact stories@dribbble.com.