Lightwell was born from a small team of creators, who, after creating their own interactive app, became determined to empower others to make their own. Animation can be an intimidating process, but Lightwell's features take cumbersome code out of the picture, allowing creativity to really flow.
Want to hear more about what the Lightwell team has been up to? We catch up with Ben in the Team Timeout below.
Who are you and what is your background?
Hey there! My name is Ben and I'm a UX/UI designer based in Brooklyn who grew up in a sleepy little town in Western NY. I studied graphic design at RIT and before Lightwell, I had a background working in the ad agency space. I love to nerd out on video games like Animal Crossing as well as a good graphic novel like Monstress.
What is Lightwell and how does the program make it easy for designers to create their own app?
Lightwell is an incredibly powerful tool for designers and artists, and it enables them to ultimately bring their creations to life via an interactive app which can be published on the App Store. You can create robust animations, map them to interactions and even lip sync a character's mouth movements to dialogue automatically. It requires no knowledge of code on the user's end so it's really compelling for creators who are bursting with ideas who might not always have the time to both design and build on their own.
My favorite anecdote to date was from one of our users who found it easy to flesh out an entire scene or two in a few hours, and test it with their child when they got home from school. That just warms my heart.
Choose a favorite shot of yours. Tell us why it's a favorite.
My favorite shot is this spot illustration I did of my Nintendo 3DS. It was the first illustration I'd done in quite a while and it helped me explore a much more playful, colorful style than what I was used to making at the time.
Tell us about your setup. What tools did you use to create the shot (e.g. hardware, software, pens, paper, blowtorch)?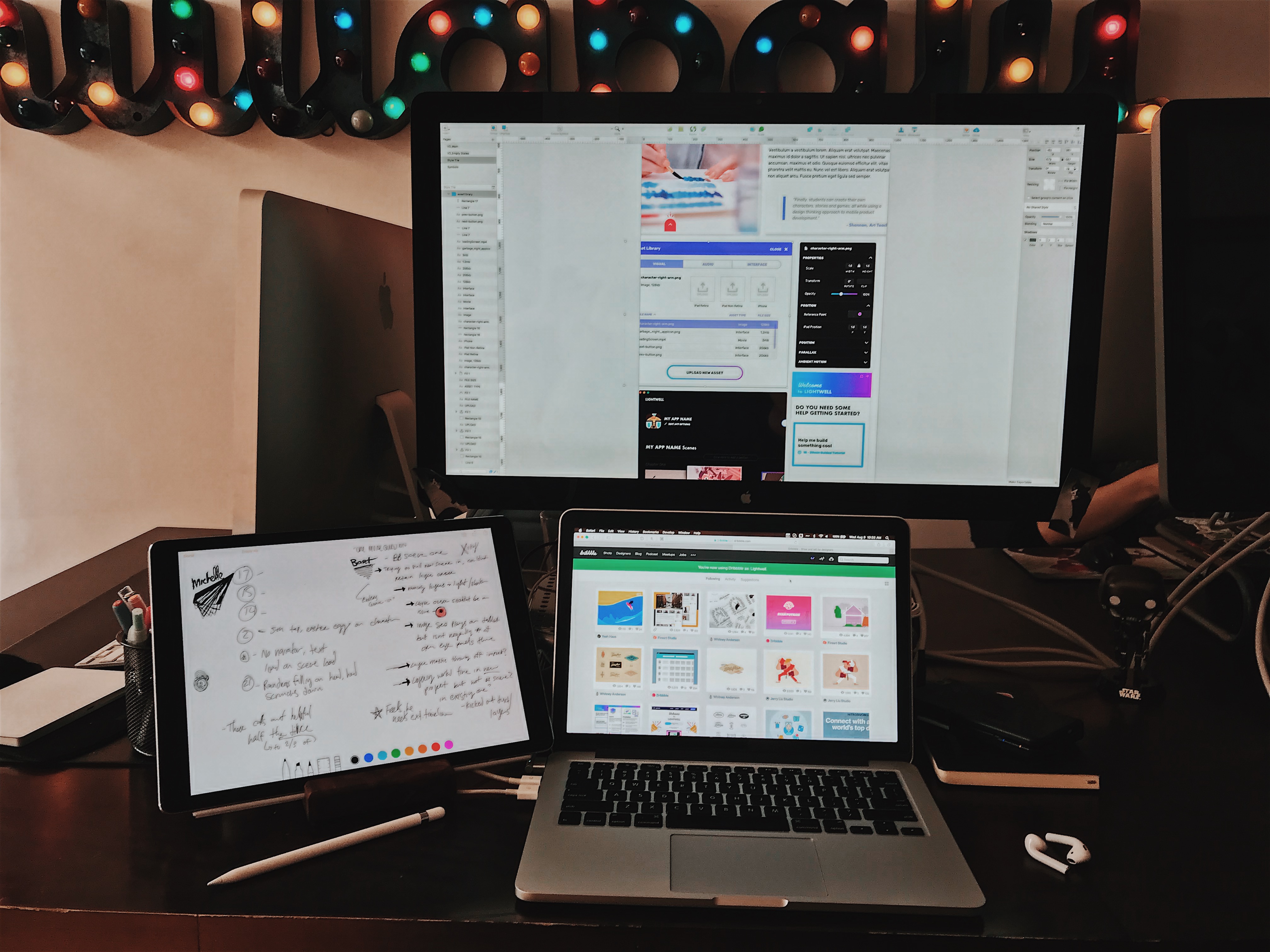 I work primarily on a MacBook Pro with an external monitor, usually in Sketch, Illustrator and Tumult Hype. I'm a big fan of starting on paper first so you'll usually find me with a Moleskine in hand and a Micron pen in the other until I'm feeling confident enough in my direction to start farming those pixels. I'm also a huge fan of Tombow dual brush pens for doodling and hand lettering.
What's happening at Lightwell right now?
We just recently kicked off an exciting new program called the Lightwell Artist Fellowship. We're working with some really talented creators over the course of six weeks to help them take their first steps with the program all the way through the release of their first app. Outside of that, I'm working on a visual overhaul of the app and I'm really excited to get that out there in the world!
Choose a favorite shot from another player. Tell us why you dig it.
I've followed Nidhi's artwork for awhile now and I'm constantly floored by the amount of thought and care that flows from her work. Her color use is always on point and the characters she creates are so full of life. This piece, in particular, has a great theme and I love the character's pose.
I had trouble picking just one so I had to pick two of my favorites!
Dennis does such a great job at adapting pop culture icons to his really unique style. I'm a huge fan of Stranger Things and I really dig his take on the characters. His background work here is as usual, intricate and frames the subjects so well.
Find Lightwell on Dribbble, Lightwell.pro, and at Instagram.
Find Ben on Dribbble, Twitter, and at BenjaminGage.format.com.
Find more Timeout stories on our blog Courtside. Have a suggestion? Contact stories@dribbble.com.