Support our Global Meetup Sponsors
We're back to work after a lovely Thanksgiving holiday—and you know what happens after Thanksgiving, right? Sales! Our Global Meetup Sponsors—UI8, Stocksy, and Sticker Mule, are offering excellent deals for Black Friday and Cyber Monday.
Thanks to our Global Meetup Sponsors for helping us make Dribbble Meetups possible.
Fantasy + Dribbble Meetup in NYC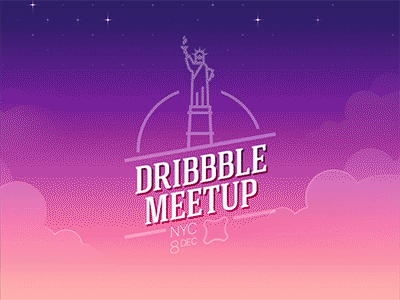 We're excited to team up with our friends at Fantasy for a NYC Dribbble Meetup on December 8th. Dribbble Co-founder Dan Cederholm will be moderating a panel and designer Gleb Kuznetsov will be speaking. Unfortunately, the event is full, but you'll be able to hear Gleb on an upcoming episode of Overtime soon.
Overtime
Dribbble's audio companion. Our official podcast.
In this bonus episode, they discuss the challenges in designing for designers, Adam's love of sports, how he recorded and produced his own punk rock album, and a shot from Sergio Ingravalle.
Courtside
Last week's stories from the Dribbble community. To see all of our stories on designers and their work, visit Courtside.
Almost 400 designers attended Dribbble Meetups in October—with 7 meetups in 5 countries.
See some great examples of Voxel Art in Shot Block.
Jobs for Designers
What could you be working on? Below are a few of the organizations hiring on Dribbble. Check out Jobs for Designers to see the full list.
Who's New?
Please welcome our latest designers by checking out their debuts last week.
Meetups
The following Dribbble Meetups are happening soon. For the full list of upcoming meetups, visit our Meetups page.
Find more Weekly Replay stories on our blog Courtside. Have a suggestion? Contact stories@dribbble.com.