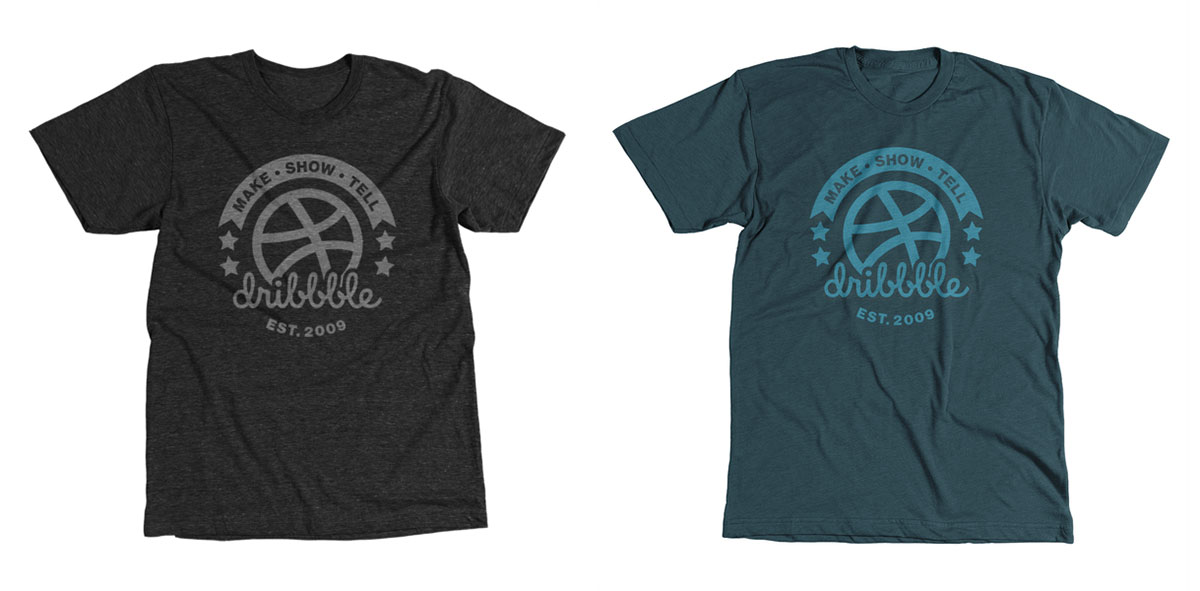 Wear Our Crest on Your Chest
Our Dribbble Crest now adorns two new shirts in the Dribbble Equipment Shop. You may have seen this crest on our Analog Playoff prize pins or the shiny gold foil notebooks, but now you can wear it proudly on a heather black or aqua shirt! So grab one and don't forget to share what you're making by showing and telling on Dribbble.
Super Social
We recently added a few more social profiles to your account settings. You can now add LinkedIn, YouTube, and Vimeo to your account. We're big Vimeo fans and have recently updated our Dribbble Vimeo account with a few screencasts on Pro and Playbook.
Dribbble Newsletter
If you received this email in your inbox, you're currently signed up for Weekly Replay—and we are so glad you are. If you're also interested on getting the occasional email update on Dribbble products and what we've working on, sign up for the Dribbble Newsletter. We've got a new one queued up for this week and spoiler alert—Dan shares some podcasting tips and there may even be a coupon code so you can get yourself one of those sweet new shirts.
Overtime
Dribbble's audio companion. Our official podcast.
In this episode, Dan Cederholm and Bethany Heck discuss the importance of firm criticism, learning to accept that you won't always win (and why that's ok), how Eephus League got started, why "stick to two typefaces" is a rule that you can break, and more.
Courtside
Last week's stories from the Dribbble community. To see all of our stories on designers and their work, visit Courtside.
As part of Playbook customization, we're excited to provide a few select fonts to choose from—two of those from the IB Type collection.
Who is Brett Stiles and what is he working on? Find out in Timeout!
Jobs for Designers
What could you be working on? Below are a few of the organizations hiring on Dribbble. Check out Jobs for Designers to see the full list.
Who's New?
Please welcome our latest designers by checking out their debuts last week.
Meetups
The following Dribbble Meetups are happening soon. For the full list of upcoming meetups, visit our Meetups page.
Find more Weekly Replay stories on our blog Courtside. Have a suggestion? Contact stories@dribbble.com.