Design Portfolio
3 Do's & Don'ts When Crafting Your Design Portfolio
Learn do's and don'ts for building your design portfolio. Stand out in the hiring pool by following these must-know portfolio best practices.
December 10, 2021
Build Your Portfolio
In a sea of job applicants, your portfolio showcases who you are as a designer. It's also one of the first things an employer will review when considering you for a job. And, because clients are always looking for the best combination of talent and value, graphic designers need to put extra care into how they present themselves.
To help you stand out in the hiring pool, we put together some essential dos & don'ts for what you should (and shouldn't) include in your design portfolio. The goal is to help you create a perfect kaleidoscope of your skills and expertise so that you don't just land any job, but your dream job. Let's get straight into it.
Thanks to our friends at Domain.ME for writing & sponsoring this blog post!
Do: Include your elevator pitch
It's called an elevator pitch because it's meant to represent the amount of time you'd have if you were riding on an elevator with someone. When it comes to your portfolio, this should be a short, 30 - 60 second well-crafted business pitch that communicates your expertise and credentials quickly and effectively.
Being able to sum up the value you can offer in a succinct and compelling sentence is one of the most important skills to hone in your professional life. It could be the deciding factor in landing the job, winning the next contract, or making a life-changing connection.
But be careful. Even though it's meant to be short, it should be compelling enough to spark interest. Think of it as a commercial and you're the product. You've got 30 seconds to market yourself and convince whoever is listening to not only stay tuned, but to buy what you're selling—you are the perfect candidate.
Don't: Overlook your social media links
The problem with hiring online is that it can be hard to gauge personality and whether a candidate will be easy to work with.
"Hiring managers look for people who seem warm and competent." —Jessica Ko, Former Google Hiring Manager & CEO of Playbook
Eliminate the guesswork for clients by including links to your social media channels on your portfolio. It's more than likely that hiring managers will click on them, check out your feeds, and try to get a sense of who you are before they consider hiring you.
It might sound a bit awkward to share your social media accounts with strangers, but here's the thing: They will Google you regardless—at least this way, you can show them you've got nothing to hide.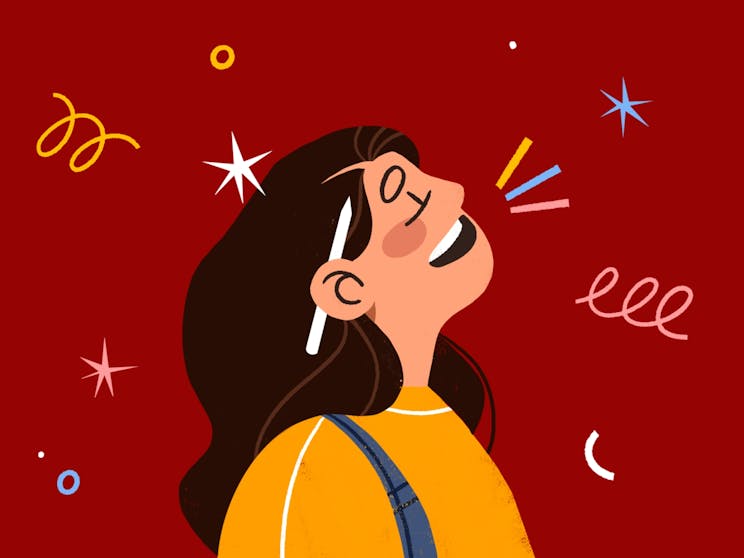 Art by Gloria Shugleva
Do: Include examples of your best work
This will sound totally obvious, but your design portfolio should only include work that you are really proud of. It's a simple concept, yet it's the most common mistake new designers make.
Emphasize quality over quantity. It's not necessary to fill up your portfolio with every single project you've ever worked on, just to create an impression that you've got a lot of experience under your belt. A select few powerful projects will be enough to make an impact.
Yes, we know it's tricky. People are prone to be subjective about their work. That means some of you might want to showcase your favorite projects rather than the most suitable ones. Try to resist the urge. Hiring managers aren't looking for your history channel. It's much better to see a portfolio with 3-4 really stellar projects versus 10-15 mediocre ones.
Don't: Forget to update your work
Once you create a design portfolio you're proud of, don't forget to update it on a regular basis. A portfolio is never truly complete—it's a living and breathing asset that should reflect your evolving design identity.
Try to think of it like this. When you visit a website, one of the first things you'll likely notice is the last time it was updated. If you land on a blog that hasn't been updated with posts since 2018, you'll probably assume it's abandoned, right? The next thing you'll do is go look elsewhere for the information you want.
"A portfolio is never truly complete—it's a living and breathing asset that reflects your evolving design identity."
The same goes for portfolios. You want to show potential clients you're still in business and you have recent work published around the web. The best way to do this is to add recent projects to your portfolio, and remove older ones every now and then.
Pro Tip: Don't go overboard and update your design portfolio simply for the sake of adding recent work. Instead, use it as an exercise to revisit your skills, goals, and vision.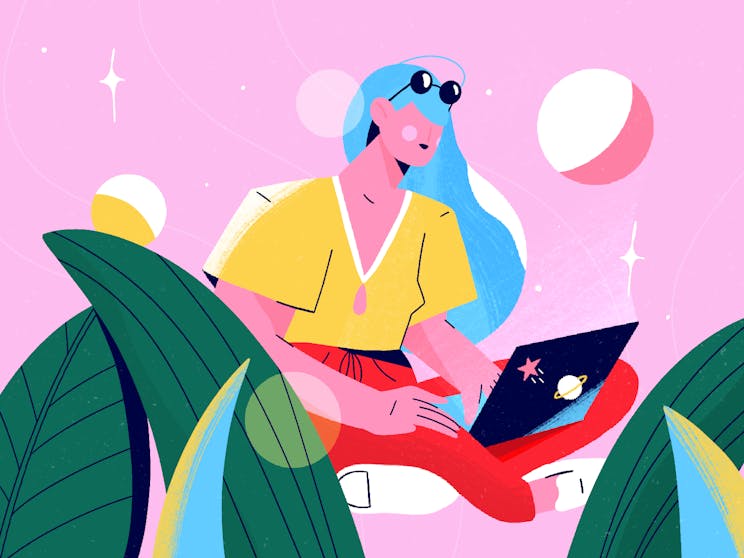 Art by studiokat
Do: Include testimonials that prove your worth
Testimonials from previous or existing clients are important in establishing credibility. Especially when you're just starting to build your brand. Customers are the best brand ambassadors and promoters because they've actually used your product or service. Your potential clients will always relate better to them than to celebrities who are paid to endorse your brand.
An effective testimonial should be:
1. SHORT BUT CONVINCING
The quality of words in your client testimonials is more important than length. Use feedback that is short but convincing. Your prospects only need to know that you are worth trusting.
2. NOT GENERIC
Show that your value is unique. If you truly stand out from your competitors, it should show in the feedback from your clients. Avoid generic-sounding testimonials because these aren't really effective.
3. IN "REAL" LANGUAGE
Allow your prospects to read the testimonials in the tone of your customers, not you. Those small grammar and language quirks help the reader connect and demonstrate they are real.
Don't: Make your portfolio too complicated to navigate
Don't forget that your portfolio has one primary goal: highlighting your best work to help you advance in your career. Remember this when choosing a template, layout, or building your own portfolio website.
Just like all design, focus on the customer experience first. In this scenario, your customers are potential clients and employers. Make it as easy as possible for them to view and understand your work. This might mean that you forego flashy visuals and complex animations.
Instead, go for minimalism. A super simple, one-page layout will do. This way, visitors can view everything at once without having to bounce between pages or click around to find what they're looking for.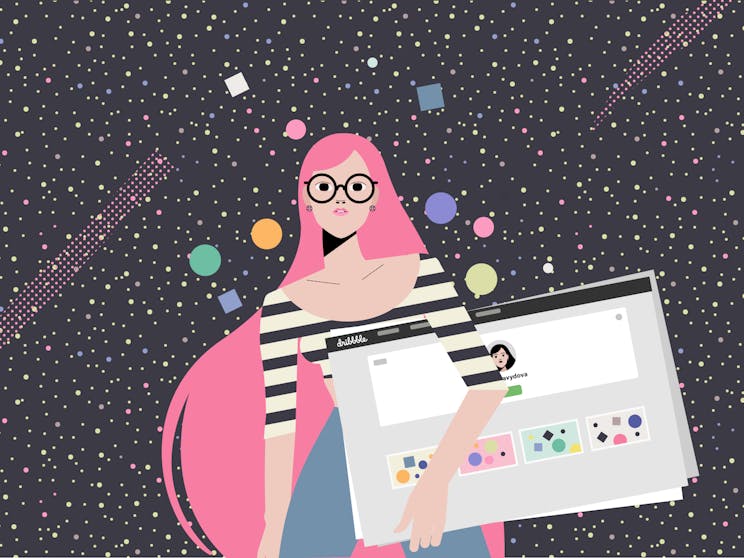 Art by Olga Davydova
Bonus tip: Get a personal domain name
Choosing a domain name for your website is an important decision you'll have to make. Investing in a personalized domain name is critical to owning the search results that come up when someone Googles your name. Remember, potential clients and employers will do their research. Having a personalized domain that links to your design portfolio will enable you to own the results that come up when anyone searches your name.
Choose a personalized domain name that speaks to who you are. We'd opt for .ME, since it is highly personalized and can make your domain name different and unique!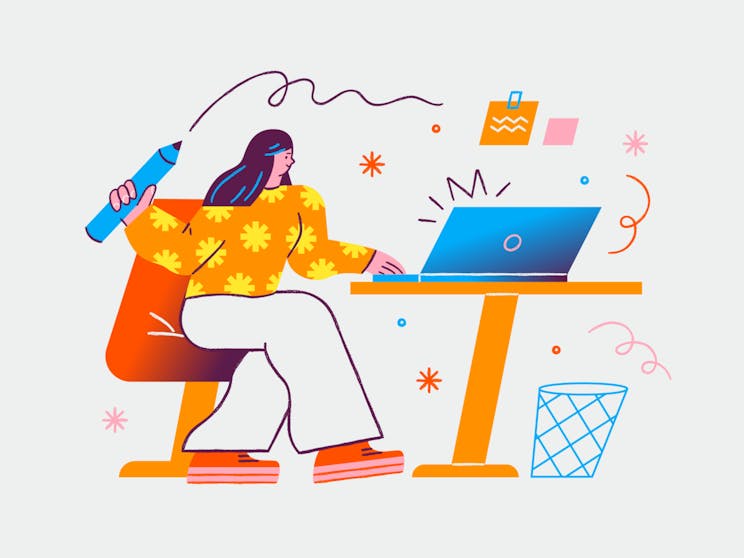 Art by Ksu Angeltseva
Wrapping up
For designers and creatives, there's nothing more important than your portfolio. It's a constant that needs care throughout the duration of your career, and should be something you spend a good amount of time crafting.
Think of yourself as a curator or storyteller narrating your artistry. Don't show off work that you aren't 100% proud of. Be honest and don't exaggerate your skills. Include testimonials from past clients. Own your aesthetic. Love your work like Kanye loves Kanye. And don't forget to update it regularly. 
Blog header illustration by Oleg Shcherba from Ouch!
About the Author: Biljana Martinićis a dedicated Content Creator/Writer at Domain.ME, the international tech company that operates the internet domain ".ME." Her articles focus on balancing information with SEO needs—but never at the expense of providing an entertaining read. With a music playlist for every silly occasion, she considers herself as some kind of a song sommelier. The last dog she's seen is always the best dog she's ever seen.
Build your portfolio & unlock new 
opportunities with Dribbble Pro
Get started
Create a client-facing portfolio instantly

Get hundreds of new leads weekly

Connect with the #1 creative community

Promote your goods seamlessly