Freelance
Balancing Work, Travel, and Life with Freelance Illustrator Cami Dobrin
Get inspired by the daily life of freelance illustrator Cami Dobrin. Learn how she stays inspired and strikes a healthy balance of work and travel.
December 06, 2021
Browse Freelance Jobs
After eleven years of freelancing, Cami Dobrin is still working towards striking the perfect balance between work and personal life—especially as someone who travels often. Get a glimpse into her typical workday as an illustrator and learn how Cami structures her days to get things done.
Where do you work? Tell us about your space.
I like working from home because it's a quiet space where I can concentrate. But for some other small work-related tasks like emailing clients, I sometimes go out to a coffee shop. I travel often which means I have to work remotely. While this is quite an amazing advantage being a freelancer, it can get difficult at times to separate work from travel. I guess it's a matter of finding the right balance and a bit of discipline to manage the time.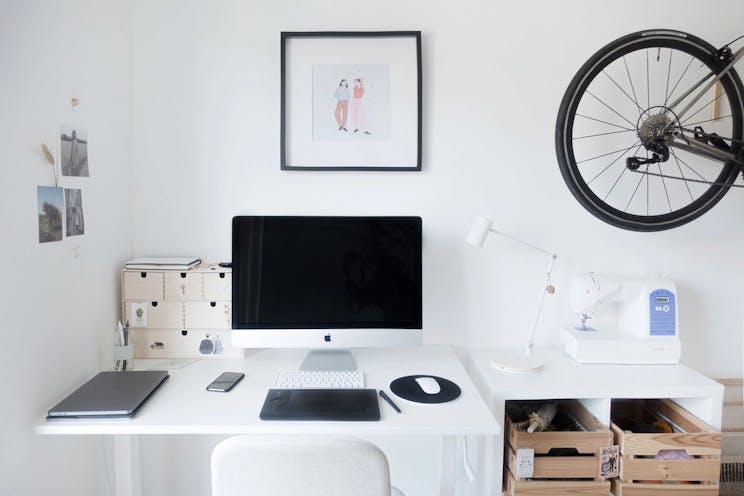 How would you describe your illustration style? What does your process look like?
I try to keep an overall clean and simple style to minimize noise and distractions for the eye, and also add a calm and peaceful atmosphere. I like using fewer details in the background, or just a pastel color, so the attention goes to the characters.
I hope that my illustrations are relatable and people can resonate with them. This is the reason why I try to emphasize moments of everyday life. Usually, I start with a sketch and then I create raw shapes which I color in. Afterward, I add the lines and tweak the shapes, carefully adding details.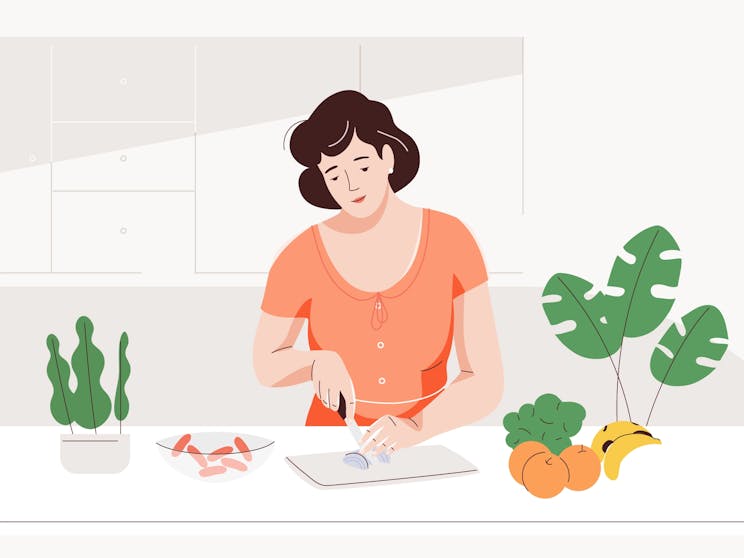 Art by Cami
Tell us about your routine (or lack of one.) How do you structure your days to get things done?
It's a constant trial and error process to get some structure in my daily routine. It's hard to stick with a routine and make it work in my benefit. I try to start my day early, tackling the tedious tasks of answering emails and organizing my schedule. Then, I work on the projects I have.
"It's a constant trial and error process to get some structure in my daily routine."
I try to make time for personal projects as well—either drawing some ideas I've been thinking about or doing a hands-on activity to get away from the computer, like weaving and making clothes. This helps me stay motivated and inspired. Throughout my eleven years of freelancing, I've learned an important lesson (which might seem obvious): take time off from work on the weekends.
How do your space, tools, and habits benefit you? What about those things do you think needs improvement?
I think a peaceful space to work in and my graphic tablet are the essentials to my productivity. Making more time for social activities would help because working from home and doing what I love sometimes isn't enough. I need to strike a work-life balance, so I'm consciously making efforts to get out and be social. I often hear this is a common issue, especially amongst my friends who work remotely.
Want to keep up with Cami? Find her on Dribbble, Instagram, Twitter, and at camidobrin.com.
Build your brand & unlock new 
opportunities with Dribbble Pro
Learn more now
The #1 creative community online

Exclusive access to 1000s of leads

Create an instant portfolio in minutes

Promote your goods seamlessly