Freelance
Top 10 Digital Products to Sell as a Graphic Designer
The graphic designer's guide to selling digital products online: Get a list of the most profitable digital products to sell as a graphic designer and tips for how to get started.
November 22, 2021
Open a shop
As a graphic designer, there are many advantages to selling digital products online. You can earn passive income, work remotely, and set your own hours working on your digital business.
Plus, everyone uses digital products today—from templates, fonts, graphics, photos, printables, to almost anything else you can imagine. Developing digital products requires a lot of patience and creative thinking, but the results are well worth it. 
If you want to start making extra income as a graphic designer, keep reading to learn the top types of digital products to sell, and how to get started selling your products on Dribbble's new Marketplace channel. Let's go!
Art by tubik.arts
Why sell digital products online?
Creating and selling digital products can free up a lot of time once you get the ball rolling. Because these goods generate passive income, you can work remotely and set your hours working on your digital business. It's a perfect fit for creative types, designers, and those looking to supplement their income. 
You also don't need to worry about inventory storage, shipping, and handling, or loss due to damage. The cost is minimal (mostly just your time), and the return is potentially significant. 
If you design digital assets with high utility, you may be helping other creatives with parts of their business they make be struggling with. Digital products also have a much greater reach because of their distribution online, which can direct potential clients to your business. 
Pro tip: you don't need to spend a ton of time creating something new (unless you want to). Recycling past design projects or other work that you own is a great way to dip your toes in! 
10 types of digital products to sell as a graphic designer
What's the key to a successful digital product? It needs to solve a problem for your customer. So whether your goal is to start a digital product empire or are just looking for a small side-hustle, here are some of the most profitable digital goods to sell as a graphic designer.
1. Icons
Icon packs are a hot commodity in the world of web and mobile design. You can create different icon sets in various styles, themes, and meanings to help web designers and developers with their UI needs. If you're designing icons for digital interfaces, just make sure you read up on standard UI icon tips and best practices first.
2. UI Kits
Digital products can be customized to your interests and skills. In recent years, demand has grown quite steadily for Sketch, XD, and Figma UI mockups and kits, especially for basic elements such as buttons, cards, lists, and so on. These types of digital products help others save time when building websites, apps, and other digital software.
3. Templates
You can also sell customizable design templates that help customers who need design support or aren't design savvy. These are virtually limitless for the types you can create, but to start, consider:
Social media templates
Resumes templates
Presentation decks
Email templates
Brand Style Guide templates
Logo templates
4. Stock Photography
Create a monthly stock image subscription for your clients or promote your collections onlinel. Try searching for popular photos that may be underrepresented in the stock photography world and offering those shots for sale. 
5. Textures, Patterns & Filters 
If you're versed in the space, you can create and sell effects, layouts, and more. Everybody appreciates a good photo filter or effect nowadays. Creating customized presets and filters for your customers' social media pages or websites can be a fun and lucrative digital product.
6. Fonts
If you want to make a lot of money selling digital products, consider teaching yourself how to design fonts. Fonts are one of the most popular and sought-after digital products you can sell on the web—and depending on the types of licenses you offer, you can gain some massive income from selling fonts alone.
7. Website Themes & Templates
Another lucrative digital product to sell online is website themes and templates. There are countless brands, bloggers, and individuals that are looking for pre-made web designs to save themselves time on their own projects. Instead of hiring you to create a custom web design, many folks are willing to pay for a pre-designed and coded web template they can use right away.
8. 3D Models
If you're well-versed in 3D modeling, consider selling different 3D characters, models, and textures to help other designers get started on their 3D projects. These 3D digital assets can include anything from animals, characters, environmental models, textures, and so much more!
9. Brushes
Digital illustrators and hand lettering artists are always on the hunt for unique brushes for Procreate, Illustrator, and Photoshop to add special effects, distinctive colors, and distinctive styles to all of their illustrations and design projects. The good news is, creating custom brushes isn't that hard. You can learn more about how to create and modify brushes in Photoshop here, for example.
10. Illustrations & other graphics
You can also offer illustrations that are of value for brands that don't have the budget to hire an illustrator full-time. To make the most out of this type of digital product, create packs of illustrations (rather than stand-alone illustrations) to sell at a higher price point. Just make sure your illustration packs are cohesive in look and feel!
Pro tip: Check out some popular UI illustrations to get inspiration for your first project.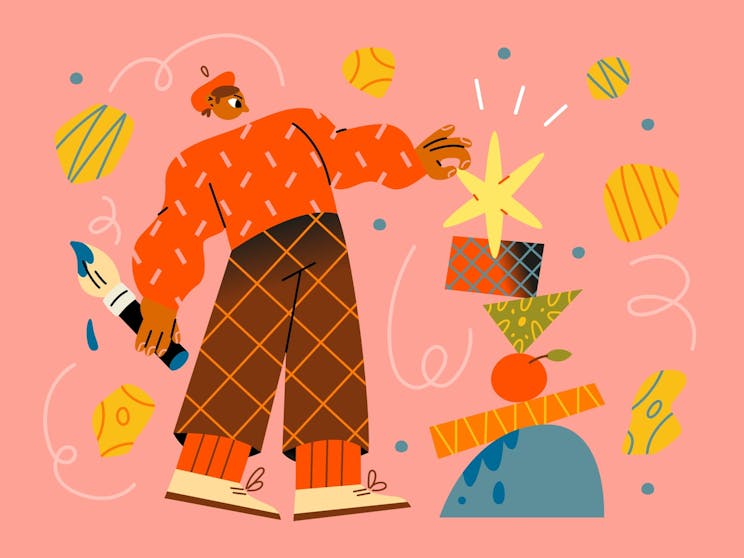 Art by Ksu Angeltseva
How much should I charge for my digital products? 
Pricing digital products can seem difficult compared to physical ones. With physical goods, you know the cost of the materials and production, and you base your price on how much you want to make. 
Digital products require a different pricing strategy.
You can either use cost-based pricing, similar to the pricing of physical goods and how much it costs you to make the product, or value-based pricing. Value-based pricing is primarily determined by how much your audience is willing to pay for your product based on the value it brings them and the problems it solves. 
Typically, cost-based pricing is best for low-involvement products like digital downloads, templates, fonts, icons, and stock photography. Value-based pricing tends to work best for groups of downloads, access to an exclusive online community, or a vault of digital content. 
Art by Mia Ditmanson
Where to sell digital products online 
Selling your digital goods on Dribbble Marketplace is the easiest place to start. Dribbble creators with digital products to sell can reach millions of customers through this marketplace channel with a seamless shop owner experience— your goods will be listed for sale on both websites (Dribbble & Creative Market). Plus, there has never been a better time to pull the trigger on a Pro membership since Dribbble Pros are pre-approved for an express shop setup!   
Still, there are also many other channels and methods to distribute and sell digital products. 
Suppose you already have a large following or are great at SEO and content marketing. In that case, you can create your own marketplace through a commerce website like Shopify or Squarespace while promoting your goods on social media or through other online advertising methods. 
If you don't want to go the self-promotion method, check out other online marketplaces like Sellfy, FetchApp, Gumroad, and Envato Market. Of course, there are marketplaces for specific types of digital goods like ThemeForest and TemplateMonster (for WordPress themes) or Udemy and Thinkific for online courses. 
How to market your digital products
The creation and sale of digital products are among the best ways to monetize a website or blog or, without much marketing effort, even make a few extra bucks on the side. However, most digital products bring in more sales if marketing strategies are employed. 
Here are three surefire ways to increase the sales of your digital products:
Online Conferences 
In the past few months, online events and summits have become increasingly popular and influential marketing channels. A few up-sells (like courses or ebooks) are then offered to the viewers after each presentation within the conference. 
Virtual Challenges 
Due to their ability to generate results in a short amount of time, online challenges have become increasingly popular among marketers. Participants will watch a video series and complete assigned homework in an online challenge. Your ideal customer can use a challenge to get started creating something like a course outline or a promotion plan for their next book.
Content Marketing or Paid Ads 
The process of creating regular content for your website or social media is known as content marketing. The content will attract a following via search engines or social media, which will generate traffic and exposure for your product, allowing you to reach a global audience.
There are plenty of paid options, including Facebook and Instagram ads, Google ads, Pinterest ads, Twitter ads, LinkedIn ads, and many other options. A paid advertisement costs you every time someone visits your website or makes a purchase. Therefore, the revenue you generate should (at minimum) cover the ad costs.
Start selling digital products online today
The world of digital products can seem intimidating when there are already so many moguls in the space, but eCommerce is big and growing every day. So choose a digital product to create and start working on it. You've already taken the first step by researching digital products to sell online.
Perhaps you have a couple of digital product ideas that you can sell based on what you're good at. Now it's time to get started. Sign up for Dribbble Pro to start setting up your online shop today!
Build your brand & unlock new 
opportunities with Dribbble Pro
Learn more now
The #1 creative community online

Exclusive access to 1000s of leads

Create an instant portfolio in minutes

Promote your goods seamlessly