Where is it?
Red Ventures 1102 Red Ventures Dr. Fort Mill, SC 29707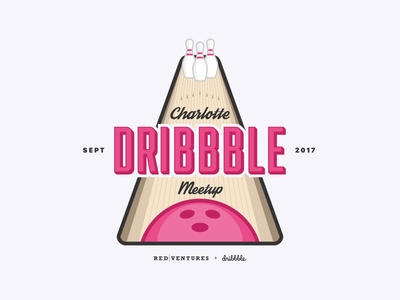 Red Ventures is pumped to host the 3rd Charlotte Dribbble meetup! Calling all designers, illustrators and other creatives from the Charlotte area together to talk shop, mingle, and walk away with some great swag! (We promise to make the hike down to our campus worth it.)
Here's what you can expect:
Networking (yes, you may be required to wear a name tag)
Talk and tour of the campus (totally optional, but there's lots to see)
Analog challenge (read: you could win a prize)
Beer and food provided
Swag from Red Ventures, Dribbble, InVision, Sketch, & Stocksy – plus an awesome door prize.
Doors open at 6:00 PM, meetup starts at 6:30 PM. Please bring a valid ID for security purposes. We'll start off in the bowling alley (yes, the rumors are true) located in RV3.
We hope you'll join us for a chance to meet other creatives, get to know the team at Red Ventures, and generally just have a fun evening!