Attending this meetup?
Save a spot and let the host know you'll be there.
Where is it?
Mobiquity Inc Tommaso Albinonistraat 9
Amsterdam, Holland 1083 HM
Netherlands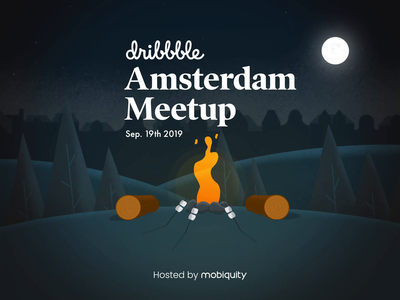 Drop your Wacom pens, close your laptops, dispose of your coffee in the kitchen sink and join this Dribbble event in Amsterdam. We'll be getting the community together to share thoughts and ideas - maybe even start a few collaborations in the process. Drinks 🍺, snacks 🍢and good people 👩‍🎤👨‍🎤 guaranteed.
This meetup will take place at Mobiquity Amsterdam HQ, right next to Rai station. See y'all there.
Schedule
18:30 - Doors open. Enjoy some snacks & drinks
19:00-19:10 - Mobiquity introduction
19:15-19:45 - Talk by Sjoerd Verbeek
19:50-20:20 - Talk by Rogier Mulder from Patswerk
20:30 - Networking & socializing
About the speakers
Sjoerd is a freelance illustrator and designer based in Arnhem, the Netherlands. His goal is to create powerful, clean and simple images for connections between brands and their audience. He specialise in illustration, icon design, craft and campaigning - always with love and precision.
Portfolio: sjoerdverbeek.nl
Social media: @sjoerdverbeek
Patswerk is an illustration & animation studio from the Hague. We produce playful and colorful work with a focus on character design. Founded in 2008 as a (not very active) graffiti crew, we grew into a studio working on projects for a range of national and international clients.
Dribbble: dribbble.com/patswerk
Website: patswerk.nl
About Mobiquity
Mobiquity is a digital consultancy that designs and delivers digital products and services, solving real human problems with usefully applied tech. We help large, global clients and startups accelerate within finance, healthcare, retail and other sectors in which innovation is key. With so many experienced designers on our team, Mobiquity is thrilled to partner with Dribbble to get the community active and energized.
Read more about Mobiquity here: mobiquity.amsterdam