Attending this meetup?
Save a spot and let the host know you'll be there.
Where is it?
BitLab 101 Avenida Norte, Los Verde #517, Col. Escalón
San Salvador, San Salvador CP 1101
El Salvador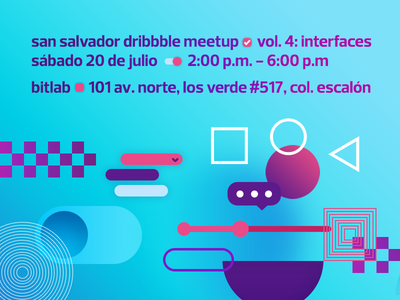 Been out for a while, but San Salvador Dribbble Meetup Volume 4 is here!
Our theme: USER INTERFACE.
Let's talk about modern design tools with four incredible guests. Meet with us for the swag!
—
About Our Venue
The event will be hosted in BitLab, a digital academy from Elaniin Tech Company aiming to train young professionals to develop skills and knowledge in the areas of development, digital strategy, design and entrepreneurship.