Where is it?
Accenture Via Quadrio 17
Milan, Lombardy 20154
Italy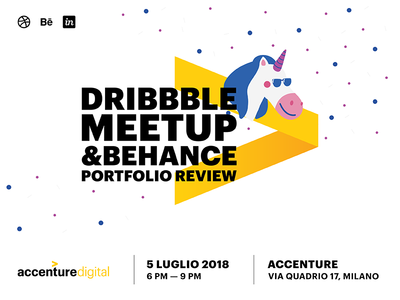 Accenture Digital and Dribbble, in collaboration with Behance, present the second edition of Dribbble Meetup @Accenture, the annual meeting dedicated to ideas, design and creativity. This year we are talking about DESIGN IN MOTION!
Animations still communicate complex ideas in simple terms: design in motion can help to reach that famous "WOW!" effect that distinguishes a UI output from another, but also to fill the gap between developers and designers, by summarizing pages of textual descriptions in a micro-animation. Today's challenge is to succeed in implementing animated elements not only as an aesthetic feature, but as an essential User Experience feature, to help users understand how to dialogue constructively with an interface.
We are talking of these topics and much more with the expert designers from Accenture Media Agency and with our guests: the Invision team will be also present for telling us more about the next updates expected for Invision App and Invision Studio!
Our designers are also ready, between a talk and another, to give you advice on your creative portfolio and there's also room for a happy hour: have a drink with us and discover the secrets to make your portfolio perfect!
An opportunity impossible to miss for creatives, students, designers, lovers and professionals to expand your network and take the challenge of our Accenture Digital Team!
The event is now fully booked but waiting list is still open: http://bit.ly/dribblemeetupaccenture
We are waiting for you @Accenture di Milano: Via Maurizio Quadrio 17, h. 18.00
AGENDA
18.00 - "Welcome & Introduction" Roberto Longhin, head of Accenture Multimedia Agency
18.20 – "From Animation to Motion Design: spread some love!" Edoardo Faravelli, Freelance Designer specialized in Motion Design and Animations
18.45 – "Good to Great UI Animation", Videoconference from San Francisco with Pablo Stanley, Design Lead from Invision Studio Platform e Illustrator @ The Design Team
19.10 – Sharing Ideas, Portfolio Reviews, Networking, Food & Drinks time!