Where is it?
FullStory HQ 120 Ottley Drive
Suite 100
Atlanta, GA 30324
United States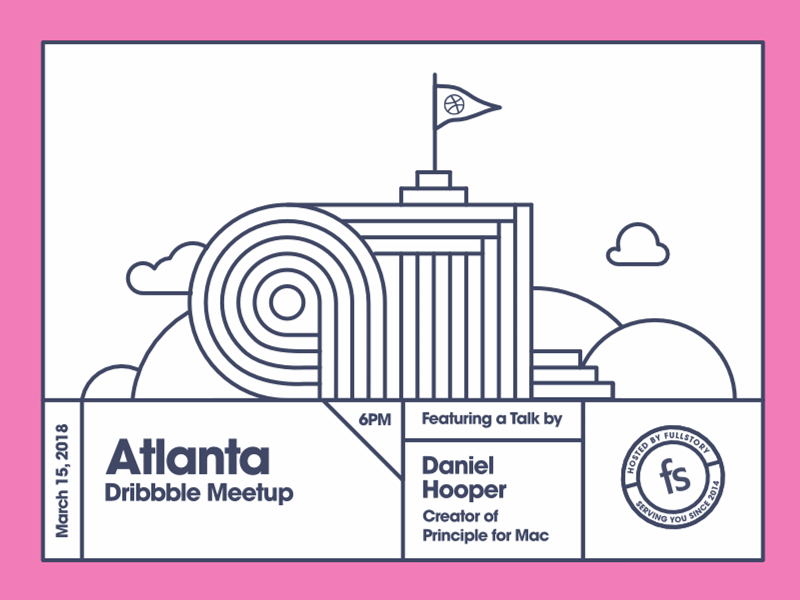 Come hang with the Atlanta Dribbble community at FullStory HQ for a doubleheader evening event on the topic of prototyping workflows. Daniel Hooper, maker of the acclaimed Principle prototyping app, will provide an inside look at the history and development of Principle. Then, after a 20 min mixer, we'll shift our direction toward a panel discussion where artifacts will be shared, learnings will be discussed, and questions will be answered. When all is said and done, you'll head home energized by the power of prototyping.
6:30-7pm Settle in at FS HQ
7:00-7:20 Daniel talks about The Power of Prototyping
7:20-7:40pm Pizza, Beer, & Schmoozing
7:40-8:00 Panel Chats
8:00-8:15ish Q&A
Daniel Hooper is the creator of Principle, a tool for designing user interfaces. Before Principle, Daniel worked on iOS at Apple. He currently lives in the coffeeshops of Atlanta and enjoys photography, guitar, scuba, and collecting hobbies.
Adam Rice, Senior UI Designer at FullStory, will be moderating our panel discussion on lessons learned.
Angie Terrell is the Director of Design at Big Nerd Ranch where she leads a team of user experience and interface designers. Angie is passionate about sharing her knowledge and extensive experience with the design community, which has led to speaking engagements at SXSW, IxDA, amUX, and Ladies that UX.
James Lytle loves designing beautiful, useful data products, inside and out. His goal is simply to help organizations communicate data more fluently to everyday people and has worked with corporate mainstays and fresher startups alike. In addition to data design, James has led various arts communities and enjoys running design thinking workshops where students and the community intersect. He's adamant that the best ideas start on the back of a napkin.
Josh Teague is currently leading design efforts at FullStory. Josh previously worked for Google on dozens of inspiring projects including Gmail, Search, Chrome, AdWords and more. Prior to that Josh cut his teeth in design working as a freelancer and with consulting groups. His training is rooted in Industrial Design and Human-Computer Interaction.
Big thanks to Carlos Andujar for the wonderful meetup illustration you see above.