Where is it?
DESKRITORIO Coworking & StartUpHub Colonia San Benito, Centro Comercial Loma Linda #18-A
San Salvador, San Salvador CP 1101
El Salvador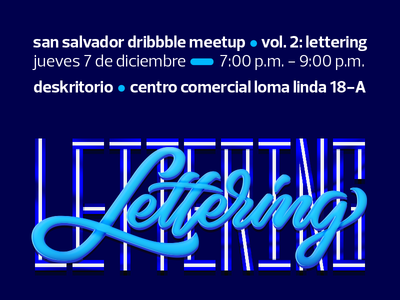 San Salvador Dribbble Meetup Volume 2 is here!
Our theme: LETTERING.
We will have three special guests, expo, swag and more!
—
About Our Meetups
Our main goal is to educate with practical examples, easily recognizable, by the hand of the creators. We all need to know the "how it was done" to learn to value the work and rescue the purity of creativity.
We want to create a local community to highlight the heroes of paper and pencil, the thousand proposals, the inceptioners, the giants hidden in the shadows. We want to know their creative processes, we want to present their sketches, we want them to talk about the eureka moments.
About Our Venue
The event will be hosted in Deskritorio, a work space that allows professionals, freelancers and entrepreneurs to share the same physical and virtual office to develop their projects independently while promoting joint projects.