Where is it?
Famedesk 345, Radhe Square, Nr. Shakti Sandwich, Reliance Cross Road, Kudasan
Nr. DAIICT - TCS Garima Park Road
Gandhinagar, Gujarat 382421
India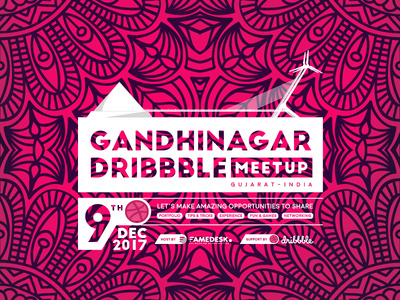 Famedesk is arranging to host the First Dribbble meetup at Gandhinagar – a capital city of vibrant Gujarat. Calling all designers, illustrators and other creatives from the Gandhinagar & Ahmedabad area together to Showcase, Presenting superb work and making opportunity towards designing. Here's what you can expect: • Dez – Networking (Dez stand Creative Designers) • Showcase & Present Inspiration work (totally optional, but there's lots to see) • Creative Games and Digital Art Creation Competition • Food & Refreshments • Swag from Famedesk, Dribbble + Best Art to getting an awesome prize.
Event start at 4:00 PM, meetup starts at 4:30 PM. Please bring a valid ID for security purposes. We hope you'll join us for a chance to meet inspired, fresh n cool creatives, get to know the team at Famedesk as well as meet dribblers.